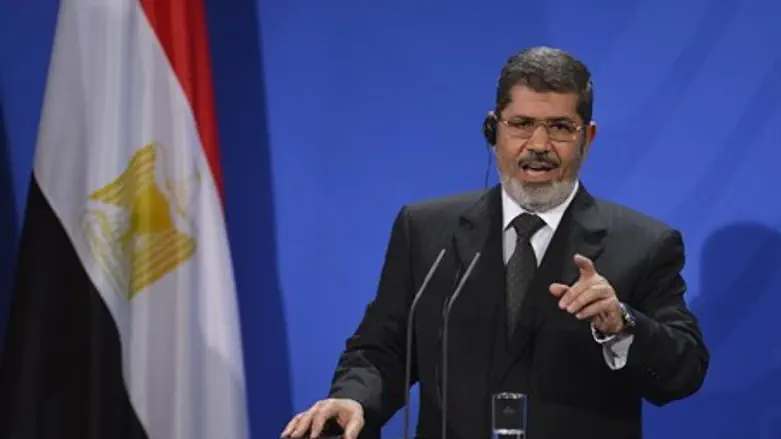 Mohammed Morsi
AFP photo
Egypt on Saturday charged ousted president Mohammed Morsi and several other people with endangering national security by leaking state secrets and sensitive documents to Qatar, Reuters reported.
Security sources had said last month that Egypt was investigating the ousted Muslim Brotherhood president in connection with documents they said were leaked to Qatar and its satellite news channel Al Jazeera.
The Cairo public prosecutor's office said on Saturday its secret investigation had unearthed enough evidence of espionage to charge Morsi in a criminal court.
"The inquiries... exposed humiliating facts and the extent of the largest conspiracy and treason carried out by the terrorist Brotherhood organization against the nation through a network of spies," it said in a lengthy statement quoted by Reuters.
The statement said Morsi and two of his top secretaries abused their positions to slip documents from Egypt's security agencies to Qatari intelligence and Al Jazeera.
It said some of those documents exposed the location of and weapons held by the Egyptian armed forces and detailed the country's foreign and domestic policies.
Morsi is currently on trial in several cases. In one trial he is being accused of inciting the killings of opposition protesters outside the presidential palace in December 2012.
In another trial, Morsi and 35 others, including leaders of the Muslim Brotherhood, are accused of conspiring with foreign powers, the Hamas terror group and Iran to destabilize Egypt.
Another of Morsi's trials, which began in January, cites his role in a 2011 jailbreak which saw the deaths of several police officers. A fourth trial will be held over charges of insulting the judiciary. 
Al Jazeera, which is owned by the government of Qatar, has been called "the Muslim Brotherhood channel" and has been blamed for stirring up much of the violence that has rocked the Middle East in recent years and is often referred to as the "Arab Spring." 
The governments of Saudi Arabia, Bahrain, and the United Arab Emirates recently withdrew their ambassadors from Qatar, in protest over Qatar's support for the Muslim Brotherhood, especially in Egypt.