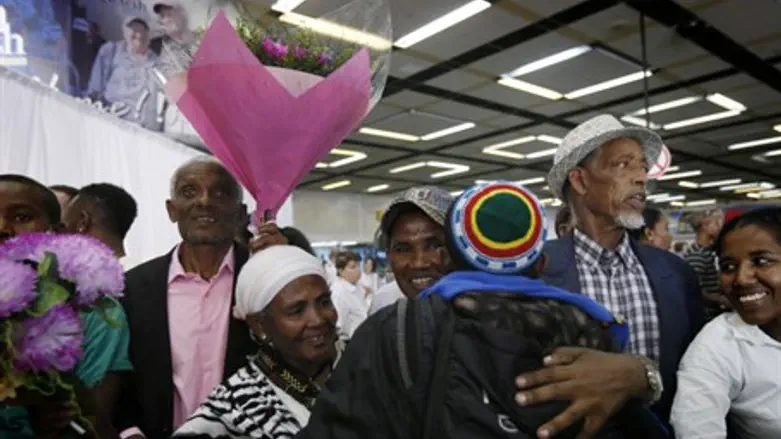 Ethiopian immigrants arrive in Israel, Wednes
Israel news photo: Flash 90
Hundreds of Ethiopian immigrants landed in Israel on Wednesday, marking the end of the Jewish Agency's decades-long campaign to bring Jewish Ethiopians to Israel. While individual Ethiopians of Jewish descent will still be eligible for aliyah (immigration), there are to be no more coordinated efforts to bring over groups of new immigrants.
The final group of immigrants, like most immigrants from Ethiopia in recent years, is made up of members of the Falash Mura community – descendants of Jews who were forced to convert to Christianity.
Even as the latest arrivals to Israel stepped into the airport, a controversy erupted over the end of the organized aliyah campaign. Thousands of Ethiopian immigrants protested outside the Prime Minister's Office in Jerusalem, calling to continue the mass aliyah campaign.
The Israeli government decided in 2005 to make a final list of those eligible for aliyah, fearing that if they did not do so, an endless number of Ethiopian Christians would seek to escape their country by claiming Jewish ancestry. The Ethiopian government, too, expressed concern over a potential mass exodus of Ethiopian citizens to Israel.
Government officials say that all people on the 2005 list have been given the opportunity to come to Israel; Falash Mura activists disagree, and say thousands more are still waiting.
Dr. Avraham Neguise, chairman of the United Ethiopian Jewish Organization (South Wing to Zion), expressed outrage at the closure of the Gondar camp formerly run by the Jewish Agency, and particularly the closure of the synagogue. "Not only are they separating parents and children, brothers and sisters, they even stole the Torah scrolls from the community in the Gondar synagogue," he told Arutz Sheva.
"They took the Torah scrolls to the embassy in order to hide the Jewish presence in Ethiopia," he accused. "They did this just before Rosh Hashanah, before Yom Kippur, Sukkot and Simhat Torah. To close a synagogue in the month of Elul is an outrage."
There are another 5,000 Ethiopian Jews waiting to come to Israel, Nagusa said. "They are on the existing lists, we didn't add new names. They are waiting to make aliyah and the state of Israel is abandoning them," he said.
"We in the community will not abandon our brothers. We will demand they be brought to Israel," he declared.
Dr. Neguise's concerns were shared by Member of Knesset Dov Lipman (Yesh Atid), who wrote on his Facebook page, "No, the Ethiopian Aliyah is not coming to an end in today's "last flight" of Ethiopians from Gondar as our government has announced.
"Of course, I welcome the new Immigrants arriving today. However, there are hundreds, if not thousands, of daughters, sons, mothers, fathers, brothers, and sisters of Ethiopians who are already in Israel who are being left behind. And, we won't leave them behind.
"I visited Gondar last year and met them. I saw their tears, I heard their cries, and I was inspired by their drive to move to Israel and be reunited with their loved ones. I call on the government and the Jewish Agency to keep all services in Gondar in place until every single relative of Israelis has their appeal heard by the special committee set up by the Interior Committee and commit not to rest until I know that no families remain torn apart‬."
But not everyone agrees with MK Lipman, even from among the Ethiopian community in Israel.
Among those who previously called to end Ethiopian aliyah were Ethiopian Jewish religious leaders.
Ethiopian Jewish kessim (traditional religious leaders) and rabbis warned in 2007 that many Falash Mura immigrants continued to practice Christianity after arriving in Israel, and even engaged in missionary activity.
Photos: Moshik Brin