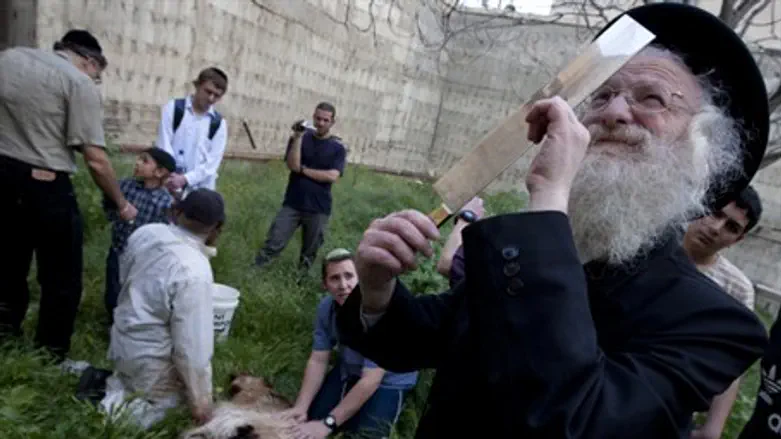 Temple Movement prepares to sacrifice goat (f
Israel news photo: Flash 90
Jerusalem police detectives detained right-wing activist Noam Federman and others for questioning, Monday afternoon, and seized a lamb the activists wanted to sacrifice on the Temple Mount in Jerusalem's Old City. Police cited them for transporting an animal without a permit.
Federman reacted by saying, "We demand to offer the Passover sacrifice, one of the most important commandments. The Jerusalem police are harming freedom of religion.
Several Temple movement tried to make the Pesach sacrifice on the Temple Mount Monday, expecting police to block their way, as has happened in previous years.
The activists planned to assemble at the promenade near the Jaffa Gate of Jerusalem's Old City at 1:30 p.m., with the goats and lambs they plan to sacrifice. At 1:45, led by Noam Federman, they were to begin advancing toward the Temple Mount, with the hope of setting up what they term a minimal kosher altar" there.
The activists said that they know their chances of success are slim, and noted that in previous years, police used force to block their way and arrested some of them as well. Charge sheets were also filed against some of them, on alleged unauthorized transport of animals and cruelty to animals.
Some activists hoped, however, that police will be more sympathetic to their efforts, because the new Knesset and government include Temple activists like MK Moshe Feiglin and Minister Uri Ariel in senior positions.
The Temple organizations noted that hundreds of supporters have signed petitions calling on the government to enable the Pesach sacrifice on the Temple Mount, as part of the freedom of religion and worship that the government must allow, by law.
Activists held a sacrifice ceremony outside the Old City walls and opposite the Temple Mount on Thursday.