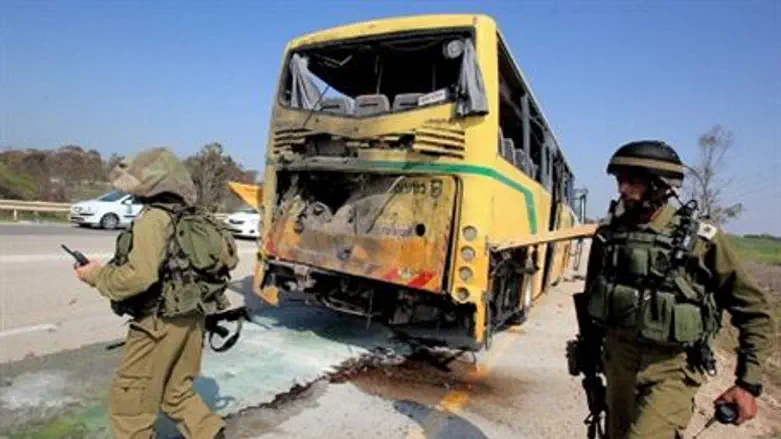 Remains of school bus attacked by Hamas
Israel news photo: Flash 90
Sixteen-year-old Daniel Viflic died Sunday in Soroka Medical Center in Be'er Sheva, a week and a half after being critically wounded in a Hamas missile attack on a school bus.
His funeral procession left from his family's home on HaYarkon street in Beit Shemesh to the city's Etz Chaim cemetery at 10 p.m.

Gaza-based terrorists fired an anti-tank missile at the bus Daniel was riding in as it drove near the Nahal Oz crossing, close to the Kibbutz Sa'ad junction. The attack took place shortly after dozens of children had been let off the bus, and only Daniel and the bus driver remained on board.

Daniel sustained head wounds, shrapnel injuries and major blood loss in the attack. He was airlifted to Soroka, where doctors fought to save his life.

At the time of the attack the teenager had been on his way to visit his grandmother, who lives in the Negev.

Daniel's health deteriorated during his stay in intensive care. His father Yitzchak said Tuesday that the situation was "very critical," and "There is nothing we can do now but pray."

His mother Tamar told the Hebrew-language daily Ma'ariv, "I talk to him. I tell him, 'My child, be strong. Be strong, Daniel. Soon you will come home, in a few days. Everything will be fine.'"

Supporters have spent the past several days praying for Daniel's welfare and raising money for his family, which closed the family business temporarily in order to be at his side.