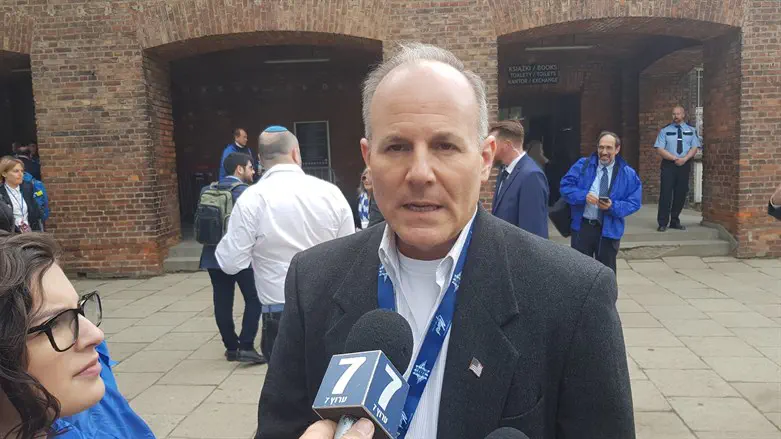 Former US Special Envoy for combating anti-Semitism Elan Carr
Yoni Kempinski
The Israeli-American Council (IAC) today named former U.S. Special Envoy Elan S. Carr as its next chief executive officer. Carr will assume the role on October 1, succeeding Shoham Nicolet, IAC's co-founder, and its CEO for the past eight years.
Carr, a second-generation Israeli-American and native Hebrew speaker, brings to the IAC his extensive experience as a U.S. diplomat, military officer, criminal prosecutor, and community leader. He has been involved with the IAC since its inception in 2007 when his parents were among the initial group that founded the organization.
"I am deeply honored to assume the helm of the IAC at this important time, and I'm excited by the organization's enormous potential," said Carr. "Our community of Israeli-Americans and Jewish-Americans is grappling with significant challenges, including assimilation and antisemitism. By combining community engagement and civic activism, youth programs and educational courses, leadership development, and Israel advocacy, the IAC is strongly positioned to respond to those challenges and build a vibrant, committed community for generations to come. I am privileged to help lead that cause."
In 2019, Carr was appointed U.S. Special Envoy to Monitor and Combat Anti-Semitism. In this role, he served as the senior diplomatic representative of the United States and the senior advisor to the Secretary of State on the subject of antisemitism, and he led U.S. policy and programs aimed at combating it. He negotiated groundbreaking agreements with foreign countries and convened the first-ever U.S. government-sponsored conference on combating online hate. He drove new policies on anti-Zionism, anti-Israel discrimination, and campus antisemitism and broadened the global consensus on the definition of antisemitism.
Prior to his federal appointment, Carr prosecuted violent felony crimes for more than a decade as a deputy district attorney for Los Angeles County. He prosecuted murders, hate crimes, child molestation, and crimes involving Southern California's most notorious criminal street gangs.
Carr served as an officer in the U.S. Army Reserve and received multiple awards for his two decades of military service. In 2003-04, he deployed to Iraq, where he helped lead a joint anti-terrorism team in life-saving missions, prosecuted terrorists who had attacked U.S. troops, and helped establish an independent Iraqi judiciary. He also led Shabbat and holiday services in the former presidential palace of Saddam Hussein in Baghdad.
Carr was born and raised in New York City. He studied philosophy and political science at the University of California, Berkeley, and earned his law degree from Northwestern University School of Law. He practiced law at leading corporate law firms in New York and Los Angeles, and he spent a year in Israel serving as a legal advisor to Israel's Ministry of Justice, helping create the country's first-ever public defender program.
As the 71st international president of Alpha Epsilon Pi (AEPi), Carr led the global Jewish fraternity's 80,000 alumni and 10,000 students in confronting campus antisemitism and assimilation. He was a voting member of the Conference of Presidents of Major American Jewish Organizations, and he served on the National Council of AIPAC.
"We could not be more excited that Elan will be leading the IAC. His personal connection to the IAC, profound dedication to the Israeli-American community, commitment to strengthening the ties between the U.S. and Israel, accomplished leadership, and achievements in fighting antisemitism brings to the IAC an exceptional track record and makes him a perfect fit for the role," said Naty Saidoff, chairman of the IAC board of directors. "We are also thankful to our departing CEO Shoham Nicolet for his exemplary leadership and are certain that his legacy will forever be etched in the annals of the IAC's history. We are confident that Elan and Shoham will work on a seamless transition for our organization."
Tal Shuster, chairwoman of the IAC's CEO Search Committee, said: "The search for the new CEO was a comprehensive process. We sought a leader with passion, connection, commitment, and a vision for the future of the IAC. As a second-generation Israeli-American, Elan stood out as a leader representing the future of our community. We are convinced that under his guidance and leadership, the IAC will continue to grow and thrive."
Nicolet, reflecting on his time at the IAC and looking ahead, said: "Leading the IAC has been one of the most fulfilling experiences of my life. Elan embodies the values and vision of the IAC, and I am confident that with Elan at the helm, the organization will continue to flourish and achieve new milestones."