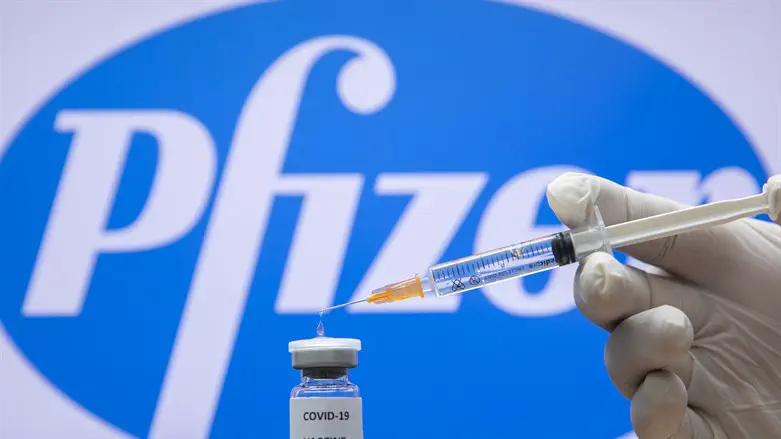 Pfizer vaccine
Olivier Fitoussi/Flash 90
The US Centers for Disease Control and Prevention (CDC) on Tuesday recommended that everyone ages 6 months and older get an updated COVID-19 vaccine to help lower the risk of severe illness, hospitalization or death from the coronavirus, CNN reported.
Dr. Mandy Cohen, director of the agency, signed off on recommendations from the Advisory Committee on Immunization Practices or ACIP, a panel of experts that advises the CDC on its vaccine recommendations.
The CDC said in a news release that the shots from Pfizer/BioNTech and Moderna will be available this week.
The endorsement from the CDC and the committee means the vaccines will be covered by public and private insurance plans.
On Monday, the US Food and Drug Administration (FDA) gave the green light to updated COVID-19 vaccines from Moderna and Pfizer/BioNTech.
Both vaccine manufacturers said testing shows that their vaccines are effective against EG.5, the currently dominant strain in the United States.
The updated vaccines are arriving amid a late summer uptick in COVID-19 hospitalizations and deaths.
The most recent data from the CDC shows that hospitalizations for the virus rose 9% last week compared to the week prior. Despite the increase, hospitalizations are still roughly half of what they were during last winter's peak. Weekly COVID-19 deaths also climbed in August.
Clinical studies presented by Moderna, Pfizer and Novavax on Tuesday showed that all the updated shots significantly boosted antibodies against currently circulating coronavirus variants, suggesting that they will provide good protection against the predominant variants.
The committee said everyone ages 5 and older should get at least one dose of an updated mRNA vaccine against COVID-19 vaccine this year.
Children 6 months through 4 years of age, who may be getting their vaccines for the first time, should get two doses of a Moderna vaccine and three doses of a Pfizer COVID-19 vaccine, with at least one of the doses being an updated 2023 shot.
The committee also made recommendations for people who are moderately or severely immunocompromised. To be up-to-date, those with low immune function should have had at least three doses of COVID-19 vaccine, with at least one of those doses being an updated shot. They also have the option to get an additional updated vaccine later in the year.
The committee has not decided whether seniors 65 and older might need another dose of an updated vaccine in a few months. Seniors became eligible for a second dose of a bivalent vaccine this past spring.