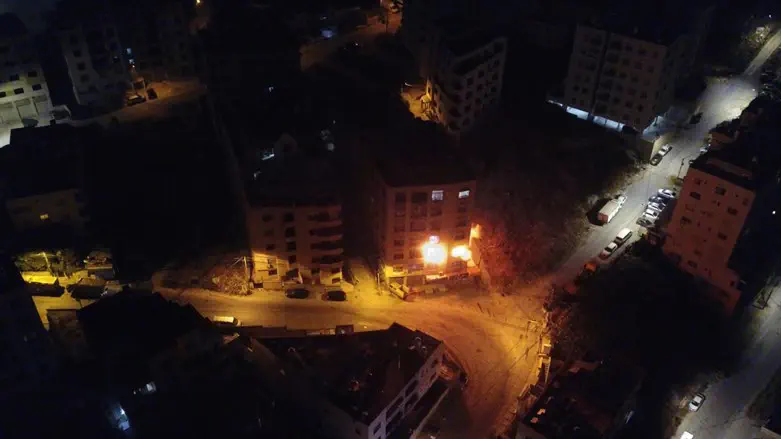 Demolition of home of terrorist Kamal Juri in Shechem
IDF Spokesperson's Unit
IDF troops operated overnight Wednesday in the city of Shechem (Nablus) to demolish the home of Kamal Juri, one of the terrorists who carried out the attack in which the IDF soldier Ido Baruch was murdered.
During the operation, there were several gatherings that included the throwing of rocks and burning of tires. In addition, explosives were thrown and fire was opened at the troops. A military vehicle was damaged.
The soldiers responded with riot dispersal methods. There were no injuries among the Israeli forces.
Last month, the head of the IDF Central Command signed a confiscation and demolition order for Juri's home. The order was issued after an appeal filed by the terrorist's family was rejected.
Last week, IDF and Border Police officers demolished the home of terrorist Osama Tawil, who carried out the attack together with Juri.
The IDF Spokesperson's Unit said that during the operation, gunfire was heard in the area and terrorists fired at the soldiers who participated in the demolition of the home, causing damage to military vehicles.
In addition, terrorists threw explosives, shot fireworks and threw firebombs at the fighters who responded with measures to disperse demonstrations and shooting. There were no casualties among the IDF forces. Palestinian Arab sources reported that one terrorist was killed in the exchange of fire.