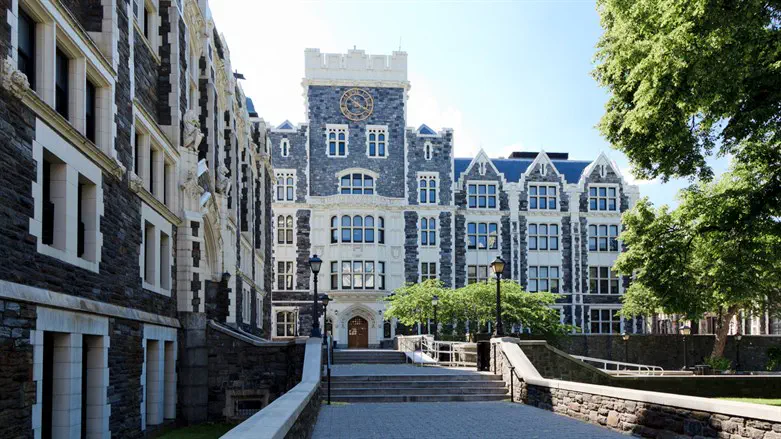 City University of New York (CUNY)
ISTOCK
New York Republican and Democratic lawmakers are calling for taxpayer funding for City University of New York (CUNY) Law School to be slashed after a vile Israel bashing graduation speech by a student activist who described the founding of the Jewish State as a "catastrophe."
Law graduate and Students for Justice in Palestine member Fatima Mohammed made the hateful remarks during her commencement speech at CUNY Law School on May 12, the Daily Mail reported.
In her diatribe, which the school was eventually forced to release a video of last week, she denounced Israel for "settler colonialism" and claimed it was guilty of "indiscriminate" murder of Palestinian Arabs.
She also alleged that the Israeli government was "carrying on the ongoing Nakba" and was behind "lynch mobs" and called for resistance to "Zionism around the world."
She also made use of antisemitic tropes during her 13-minute rant, claiming a conspiracy involving Jewish financiers linked to CUNY, stating that "our morality will not be purchased by investors."
She also spoke in support of "Palestinian political prisoners like HLF in US prisons." The Holy Land Foundation (HLF) was a Texas-based charity that was found guilty of supporting Hamas by the US Justice Department.
The law graduate and BDS activist – who described herself as hailing "from the rich soil of Yemen, raised by the humble streets of Queens" – also alleged that the American legal system is "a manifestation of white supremacy that continues to oppress and suppress people in this nation and around the world," while labeling the US military and the NYPD as "fascist."
'May we rejoice in the corners of our New York City bedroom apartments and dining tables, may it be fuel for the fight against capitalism, racism, imperialism, and Zionism around the world,' she said.
Former Republican Congressman Lee Zeldin slammed CUNY after the contents of the speech went public, noting that the university system will receive $5.7 billion in public funds in 2024, mostly from New York.
"Raging antisemitism has fully consumed the City University of New York. Until the administration is overhauled and all Jewish students and faculty are welcome again, taxpayer funding must be immediately halted," Zeldin said on Twitter, calling for CUNY to be defunded.
New York Rep. Ritchie Torres (D-NY) echoed Zeldin's criticism.
Accusing Mohammed of suffering from "anti-Israel derangement syndrome," the Democratic lawmaker denounced the future lawyer's speech.
"Imagine being so crazed by hatred for Israel as a Jewish State that you make it the subject of your commencement speech at a law school graduation," he tweeted.
Arsen Ostrovsky, CEO of The International Legal Forum, a legal network that fights antisemitism, said in a statement released on Twitter that CUNY has "become 'ground zero' for Jew hatred on campuses in America today."
"One might expect such speech in Ramallah or Lebanon, but sadly, CUNY has become indistinguishable," he's said. "Given CUNY's status as a public institution, their funding must be immediately revoked, as it is unfathomable that state funds would be underwriting such visceral racial hatred and incitement."