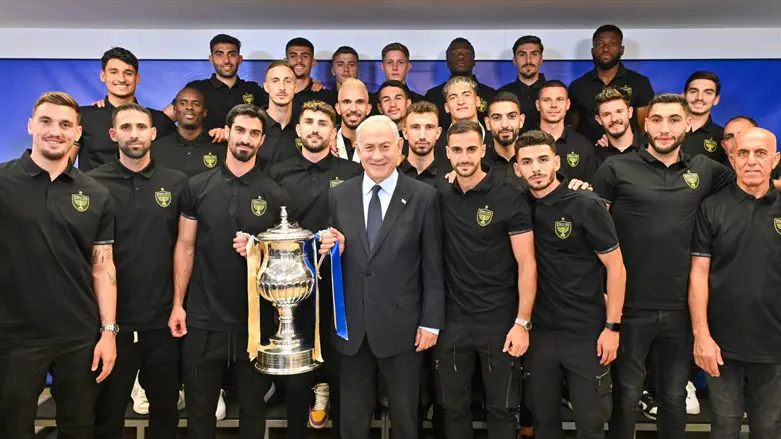 Netanyahu with Beitar Jerusalem players
Kobi Gideon/GPO
Prime Minister Benjamin Netanyahu met on Wednesday, at the Prime Minister's Office in Jerusalem, with the team members of F.C. Beitar Jerusalem on the occasion of their winning the 2023 State Cup.
Prime Minister Netanyahu told the players during the meeting, "I would like to tell you that two good things happened yesterday: One, we passed the budget for the State of Israel; and two, you brought the Cup back to Israel's capital. You played a great team game. Your rivals also played well but you played better."
"We are happy for you. After 14 years, you closed the circle. I also want to tell you that as a fan, I share in the fans' joy but this needs to be restrained as well and kept within the rules. I am certain there will be more opportunities," he added.
"I really want to tell you that you did great work. During the budget, we sat and watched and almost missed a few votes, but you did not miss any opportunity. You really played magnificently. Then congratulations to you. Mazel tov Beitar Jerusalem. Let's go Beitar!"
Also attending the meeting with the Beitar Jerusalem players were Culture and Sport Minister Miki Zohar, Economy Minister Nir Barkat, Jerusalem Mayor Moshe Lion, Jerusalem Municipality Director General Itzik Lari, team owner Barak Abramov, coach Yossi Abukasis and other senior team officials.
Beitar Jerusalem had been in danger of losing the state cup due to unruly behavior by its fans.
Following the conclusion of the match at Sammy Ofer Stadium in Haifa, in which Beitar defeated Maccabi Netanya 3-0, thousands of Beitar fans stormed the field of play and caused the trophy ceremony to be delayed for 40 minutes.
After the fans were removed from the field, the ceremony began in the presence of President Isaac Herzog, Minister Zohar, and Mayor Lion. However, minutes after the ceremony began, thousands of Jerusalem fans stormed the field again, causing the President to be evacuated from the scene under heavy security. In the end the ceremony was called off completely.
While the Israel Soccer Association's bylaws state that a team could be deprived of the state cup should a large number of fans storm onto the pitch, the legal adviser of the Israel Soccer Association ruled that on Wednesday that the team will be permitted to hold on to the championship.
President Herzog later presented the state cup to the members of Beitar Jerusalem at his official residence.