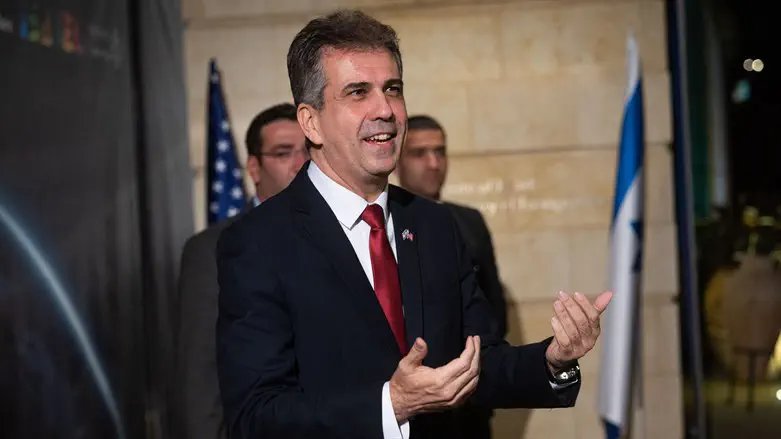 Foreign Minister Eli Cohen
Yonatan Sindel/Flash 90
Foreign Minister Eli Cohen on Monday hailed a "new era" in the relationship between Sweden and Israel, as he began a visit to Stockholm, the first by an Israeli foreign minister in 22 years.
"More than 20 years have passed since an Israeli foreign minister visited Sweden, and today I had an important meeting with the Swedish Minister for Foreign Affairs in Stockholm, Tobias Billström, a close ally of Israel," tweeted Cohen.
Sweden holds the presidency of the European Union and is expected to join NATO; therefore, strengthening the relationship between our countries is a strategic interest," he added.
"We discussed enhancing the economic and security cooperation between the countries, the fight against a nuclear Iran, and broadening the Abraham Accords."
"I thanked Mister Billström for the positive shift towards Israel in the international arena, and he told me about his special connection with Israel and the Jewish people. His wife volunteered on kibbutz Misgav Am in the 90s, and his grandparents welcomed Holocaust survivors into their home after World War II," concluded Cohen.
Billström commented on the meeting as well on his Twitter account, writing, "A very good and productive meeting with Eli Cohen in Stockholm today. The first one in 20 years, so long overdue."
"The purpose was to further strengthen the bilateral relations between Sweden and Israel and to discuss global and regional issues of mutual interest," he added.
Sweden and Israel had a rocky relationship during the previous Social Democratic government, beginning when then-Swedish Foreign Minister Margot Wallstrom made a series of anti-Israel statements.
In 2014, then-Foreign Minister Avigdor Liberman denounced Sweden's decision to recognize the Palestinian Authority (PA) as "the State of Palestine", saying that "relations in the Middle East are a lot more complex than the self-assembly furniture of IKEA".
Wallstrom later replied and said she would be "happy" to send Liberman some IKEA furniture "and he will also see that what you need to put that together is, first of all, a partner."
Following that incident, Wallstrom accused Israel of being "extremely aggressive" and claimed the Jewish state was "irritating its allies".
In 2016, Wallstrom was refused meetings with Israeli ministers during her visit to the region. She did visit Ramallah, where PA chairman Mahmoud Abbas decorated her with an award he calls the Grand Star of the Order of Jerusalem.
Relations between Sweden and Israel began to thaw in 2021, when Wallstrom's successor, Ann Linde, visited Israel and stressed that her country is a friend of the Jewish state.