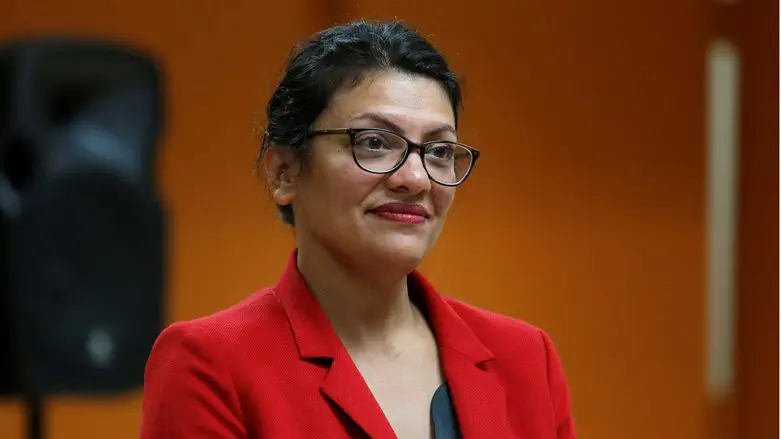 Rashida Tlaib
Reuters
The Zionist Organization of America (ZOA) praised House Speaker Kevin McCarthy (R-CA) on Wednesday as a "moral giant" for refusing to allow Michigan Democratic Rep. Rashida Tlaib's planned "Nakba Day" event to go ahead.
The event would have taken place inside the Capitol Building in partnership with anti-Israel organizations.
McCarthy tweeted on Tuesday that the "Nakba Day" event – referring to the Arabic term for "disaster" – would not take place. Instead, he replaced it with a bipartisan gathering marking the 75th anniversary of the US-Israel relationship.
"This event in the US Capitol is canceled. Instead, I will host a bipartisan discussion to honor the 75th anniversary of the US-Israel relationship," McCarthy said.
ZOA President Morton Klein applauded the Speaker's decision.
"ZOA profusely praised and thanked House Speaker Kevin McCarthy as a moral giant for blocking Israelophobic extremist Rep. Rashida Tlaib's antisemitic 'Nakba' event, which calls Arabs' failure to destroy the Jewish State of Israel a 'catastrophe' (Nakba)," Klein said.
He called for "dangerous extremist Rashida Tlaib" to be removed by McCarthy from all her House committee assignments "as she is not only a racist bigot but does not believe in or represent American values," noting that Tlaib's event was organized by "virulently antisemitic, anti-Israel boycott and defamation groups."
Tlaib's "Nakba 75" event was organized by a "who's who" of the "worst antisemitic anti-Israel organizations that specialize in boycotting and libeling Jews and Israel, and engage in activities to destroy the Jewish state," ZOA pointed out, urging further penalties against the rep. for her actions.
"There needs to finally be consequences for Tlaib's long line of hateful, antisemitic, anti-Israel activities. It is appalling that President Biden had publicly praised Tlaib. Biden must immediately retract his erroneous praise," Klein said. "Tlaib must be removed from every US House Committee and publicly condemned by the Democratic House and Senate Leadership. We have been calling for this for several years now."