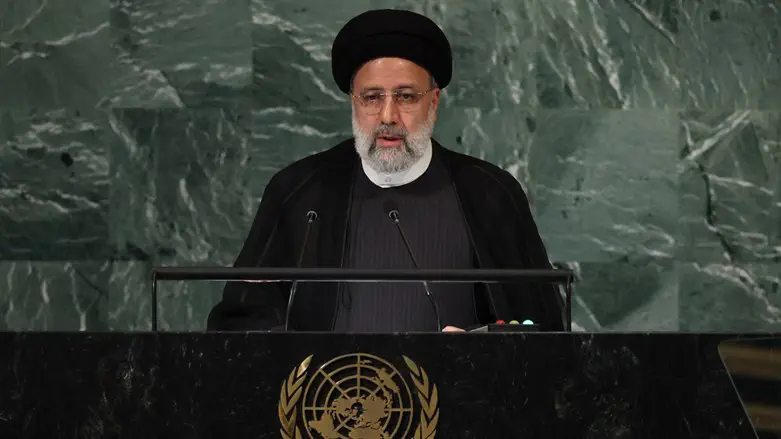 Iran's President Ebrahim Raisi addresses the 77th Session of the United Nations
REUTERS/Brendan Mcdermid
Iranian President Ebrahim Raisi issued threats against Israel ahead of his scheduled visit to Syria on Wednesday, Israel Hayom reports.
Speaking on Tuesday to the Lebanese television channel Al-Mayadeen, which is associated with Hezbollah, Raisi said, "The Zionist entity cannot provide security within its borders, as the conditions differ greatly than in the past. It is clear to everyone that the Sharm el-Sheikh, Camp David, and Oslo agreements cannot provide security to this entity. The decision today is in the hands of the Palestinian Mujahideen and not determined at the negotiating table."
Raisi also claimed that "the Zionist entity knows very well that they will never be able to confront Iran. Its threats are empty and the proof of this is that it cannot deal with the youth resistance in Palestine and the region. No one in the world believes these threats."
He added, "If the Zionist entity takes the smallest step against Iran, our first step will be to remove it. The first foolish step of the Zionist entity will be its last step."
Raisi also commented on to his country's renewal of ties with Saudi Arabia, with the opening of the embassies in both countries expected to take place in the coming days.
"The renewal of ties will continue. Iran and Saudi Arabia have a position of influence in the region and the relations between them can carry many advantages. The enemies are angry because of the return of relations and between them the Zionist entity," he stated.
This is not the first time that the Iranian President has threatened Israel, doing what many other Iranian leaders regularly do.
In April of last year, Raisi warned that Israel will be targeted by his country's armed forces if it makes "the tiniest move" against Iran.
"If the tiniest move by you happens against nation of Iran, center of the Zionist regime will be destination of our armed forces," Raisi said during a speech at an annual parade of Iran's armed forces.
Several months earlier, the commander of the Iranian Revolutionary Guard's aerospace forces, Amir Ali Hajizadeh, said that Israel was "doomed to disappear" and that any action by Israel against the Islamic Republic would hasten that disappearance.
Previously, Iran's Foreign Minister, Hossein Amir-Abdollahian, spoke at the United Nations Durban IV conference, where he said his nation's "willpower is dedicated" to the elimination of Zionism.