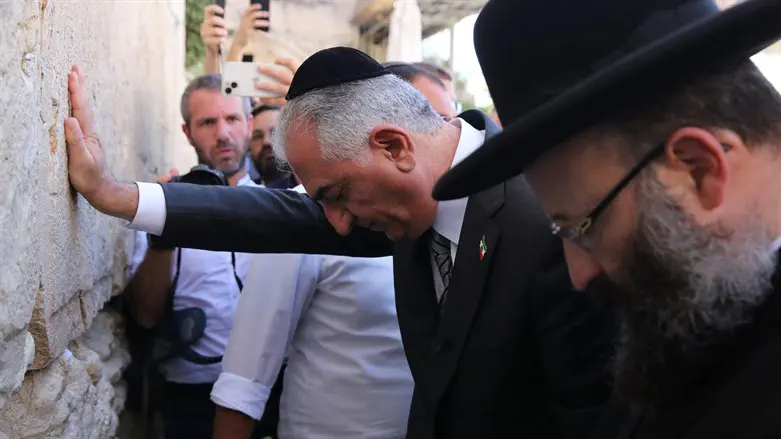 רזא פהלווי בביקור בכותל המערבי
Western Wall Heritage Foundation
Iran's Crown Prince Reza Pahlavi and his wife on Tuesday morning visited the Western Wall, at the initiative of Intelligence Minister Gila Gamliel (Likud).
Western Wall Rabbi Shmuel Rabinowitz and the chief of the Western Wall Heritage Foundation met Pahlavi, explaining to him the Western Wall's significance to the Jewish people throughout the generations, and the reality of living in Jerusalem, a city which respects and ensures freedom of religion for all.
During the Holocaust Memorial Day siren, Pahlavi stood in the Western Wall plaza near the central flag, alongside hundreds of worshipers who were praying at the site. The Western Wall rabbi said a chapter of Psalms with him, and together they prayed for peace for the nations and peoples, between Israel and Iran.
Credit: Western Wall Heritage Foundation
Pahlavi was very moved by the visit, and signed the Western Wall guestbook with the words, "To peace, to freedom, to security, respect of man, and to life together. I bless the people of Iran and Israel."
Gamliel told him how moving his visit to the Wall was, as it sends a message of hope and peace to the entire world. The visit ended with a tour of the Western Wall tunnels.