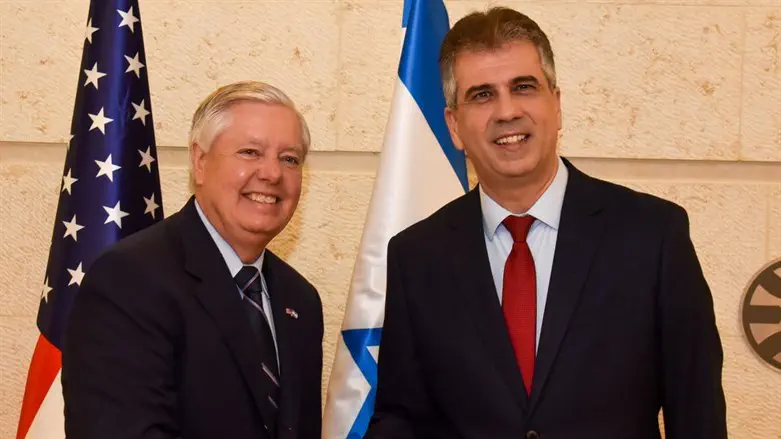 Eli Cohen and Lindsey Graham
Idan Adari, Foreign Ministry
Senator Lindsey Graham (R-South Carolina) met with Israel's Foreign Minister Sunday to discuss the US-Israel alliance and the Iranian nuclear threat.
Graham met with Foreign Minister Eli Cohen (Likud) in Israel, as part of his Middle East trip, following a massive leak of Pentagon documents.
The two vowed that their respective countries will not allow Iran to obtain nuclear weapons, and emphasized the importance of US-Israel relations.
"The cooperation between Israel and the United States is essential to stop the Iranian nuclear program, which is a global threat," Cohen said.
"We will continue to act to remove the Iranian nuclear threat from Israel, the Middle East, and the world as a whole. The way to bring about a change in Iranian behavior is by exerting comprehensive economic and diplomatic pressure in every area where Iran has an interest, including the establishment of a credible military threat against it."
"I spoke with Senator Graham, a great friend of Israel, about regional challenges, opportunities to improve relations with neighboring countries, and his visit to Saudi Arabia, from which he arrived in Israel, and initiatives to strengthen Israel-US relations. I also expressed my deep appreciation for America's move to deepen and expand the Abraham Accords, which contribute to regional prosperity and stability."
Speaking with ABC on Sunday, Graham claimed that the Pentagon document leak was "damaging" to America's position in the Middle East, and its relationship with regional allies.
"I've been to Saudi Arabia, I'm in Israel. I can promise you, it's been very damaging," Graham said, citing reports that the Pentagon claimed Israel's Mossad aided the anti-judicial reform protest movement.
"There's information about Mossad supposedly helping the protesters. There's information about the air defense capability of Ukraine."
"And everybody in the region is really worried because, who wants to share information with the United States if you're going to read about it in the paper or find it on the internet."
"So, this has done a lot of damage to us in the region."