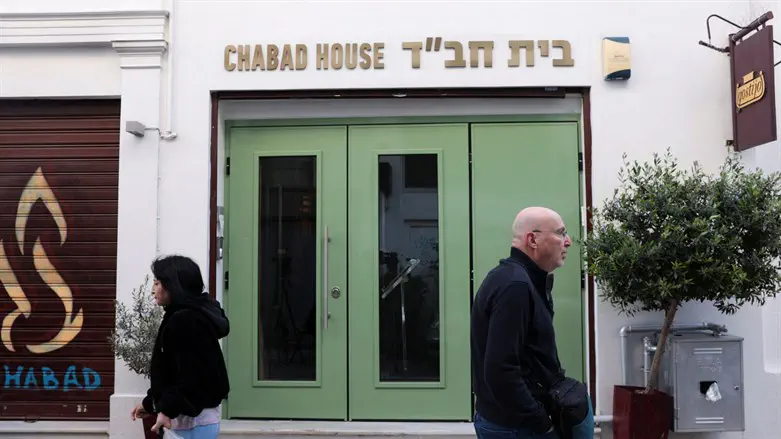 Athens Chabad house targeted by terrorists
Reuters
Iran on Wednesday denied it was involved in a failed plot to attack Jewish targets in Athens, Greece.
"Iran strongly denies the rumors spread by Zionist sources and their baseless accusations against Iran. It is obvious that their fabricated scenarios are to divert the public's attention from the domestic situation," Iran's Embassy in Athens wrote in a statement posted to Twitter.
On Tuesday, Greek media reported that a terrorist plot targeting a Jewish restaurant in downtown Athens was foiled.
According to the reports, the police in Athens arrested two Iranian terrorists of Pakistani origin on suspicion of planning to attack a number of targets related to Israel and the Jewish community in the Greek capital.
The authorities in Greece claimed that the two were caught shortly before they intended to carry out an attack on a Jewish restaurant operating in the center of Athens and that they were identified after they had observed the restaurant for several days. This aroused suspicion from the authorities.
Another target of the terrorists, beyond the Jewish restaurant, was the main synagogue of the Jewish community in Athens - but the synagogue is relatively inactive during the middle of the week, operating primarily on Shabbat and Jewish holidays.
On Wednesday, more details were published about the terrorists and the foiled attack. According to Greek media, searches carried out in the terrorists' homes found many items were discovered that would have helped them carry out the attack, including ten mobile phones, two computers, memory cards and more.
In addition, the Greek investigators revealed a series of messages that the terrorists exchanged in preparation for the attack, including photos and videos, which also included plans to kidnap and murder Israeli citizens.
This is not the first time Iran has allegedly employed Pakistani terrorists to attack Israeli targets in Europe. In November 2022, the country of Georgia announced that it had foiled an Iranian plot to assassinate Israeli-Georgian businessman Itsik Moshe.
The plot, which involved Pakistanis affiliated with Al-Qaeda, came to light after Georgian security forces noticed a member of the Pakistani agents acting suspiciously.