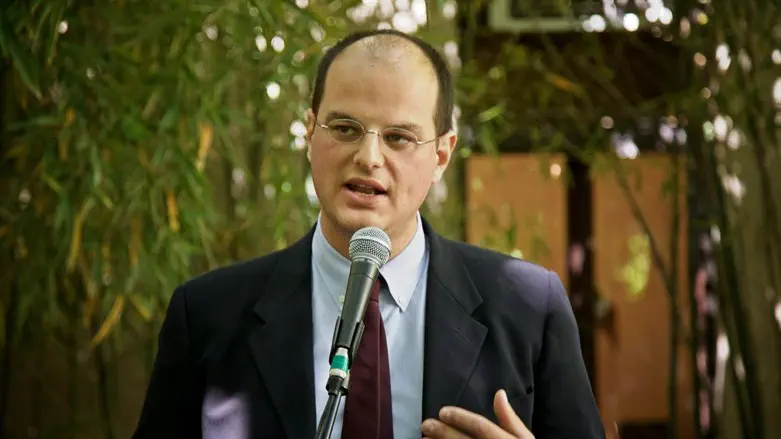 Giulio Meotti
Courtesy
Europeans have been living inside a gigantic episode of South Park for years and now they have found themselves, in the words of Spiked's Brendan O'Neill, also "doing the dirty work of the ayatollahs. The woke West has more in common with Iran's rulers than with its rebels."
Mainstream feminists, perhaps too busy rewriting Roald Dahl's Charlie and the Chocolate Factory to make Oompa Loompas "neutral," have a knack for double standards. Or in the words of Mila, the French girl threatened with death for having "offended" Islam, in a letter to Afghan women, "your wire-mesh eyes can only see Western cowardice?".
Nadine Oliveri Lozano, in the company of Iranian religious figures, dressed herself head to toe in the black chador, the traditional Iranian veil, at the shrine of Qom, south of Tehran. The image of the new Swiss ambassador to Iran, taking place while the regime has been bloodily repressing (at least 500 dead) since mid-September a large protest movement whose slogan - "women, life, freedom" - opposes the dress requirements imposed on women has inflamed social networks.
"Nadine Oliveri Lozano legitimizes the brutality of the Islamic Republic", attacks Saghi Gholi of the Free Iran Switzerland movement: "That the Swiss ambassador visits this shrine is simply shocking", all the more so because "she shows up in a chador while thousands of women fight to be able to take it off." "Wearing the conservative headscarf is exactly what shouldn't be done, as brave Iranian women risked everything for freedom," British-Iranian actress Nasanin Boniadi wrote on Twitter.
The controversy echoes the criticisms already raised by the visit of Micheline Calmy-Rey (former president of Switzerland) to Iran. The then Foreign Minister was photographed all smiles, with a scarf on her hair, during a meeting with Iranian President Mahmoud Ahmadinejad. The socialist had then dismissed the criticisms as follows: "It is not a sign of submission. It is respect for the customs of a country that invites".
And in recent days the Swiss president Alain Berset, on the occasion of the Iranian national holiday, which is celebrated on February 11 and commemorates the expulsion of the Shah and the establishment of the Islamic Republic, sent "a congratulatory telegram". "The federal president wishes Iran and its citizens a happy and successful future", reads Berset's text.
Wearing a chador is required in Shia shrines which often provide it for women, and that can be seen as a sign of respect. Chadors, however, do not have to be black from head to toe.
-The chador that the Swiss ambassador wore was lauded by the Iranian establishment as "the quintessential hijab".
-"Visiting the Sheikh Zayed Grand Mosque in Abu Dhabi was a breathtaking experience, one feels small and humble in this wonderful place, which embodies Islam's message of peace, diversity and tolerance," wrote Euro Commissioner Utta Urpilainen returning from the United Arab Emirates, where she was photographed well veiled.
-Federica Mogherini, as EU Foreign Minister, went to take selfies with a chador in the Iranian Parliament.
-Helena Dalli, the European Commissioner for Equality who proposed to cancel "Merry Christmas" in the name of "inclusion", celebrates the "Day against Islamophobia".
-A Swedish delegation visiting Iran, led by Swedish Prime Minister Löfven and Trade Minister Anna Linde, included eleven women. They all wore headscarves "almost all the time" while in Iran.
What drives these diplomats to veil themselves with such ardor? Jean Birnbaum explains it in Le Monde: "On the campuses of the United States and Western Europe as well as in the circles of the so-called 'postcolonial' left, this idea has spread: that the solidarity of Western women with their sisters in Islamic countries often masks a condescending or even racist attitude."
"'No moral authority will make me endorse a slogan conceived by and for white feminists, I belong to my family, to my clan, to my race, to Algeria, to Islam,' summed up the founding activist of the Indigènes de la République Houria Bouteldja. Recalling that Bouteldja is publicly defended by leftist figures such as Nobel Prize winner Annie Ernaux, we can see how far from marginal these positions have become in terms of influence.
The problem isn't even so much the veil and what they put in their heads as soon as they land in Iran, but what they see in front of their eyes in Europe.
"900 girls kidnapped in 2021 and 2022 in Sweden, half taken to Iraq and Somalia". Girls who are brought home to be subjected to female genital mutilation or chained to a forced marriage, writes the Swedish Expressen this week, citing an investigation by public television, Svt. Over the past five years, at least 1,151 women have been abducted, 235 of them over the age of 18. 916 are girls.
In Sweden, where there are 70,000 forced marriages, it is so widespread that girls who fear being taken abroad for forced marriage have even been advised to put a spoon in their underwear before going through airport security. "Gothenburg airport staff have been told how to react in such circumstances," said Katarina Idegard, in charge of tackling honour-based violence in Sweden's second largest city. "The spoon will activate the metal detectors when you go through security. You will be taken aside and you can speak to staff in private. It is a last chance to raise the alarm."
Meanwhile, about fifty activists of the right-wing feminist movement Némésis - true feminists who understood what real oppression is - gathered on Sunday 29 January for an impressive protest in front of the Sacré-Coeur in Montmartre. Half were in robes and the other half in hijabs, behind the banner "What civilization do you want?". They wanted to denounce the "World Hijab Day", which is celebrated on February 1 and is an attempt to promote Islamism in Western countries. "We don't realize how lucky we are to live in European civilization until we lose it," they said. "So don't wait any longer to defend it."
The woke European feminists and diplomats, who can't tell what a "woman" is and think that J.K. Rowling is the devil, I don't know which side they would choose. Much of the chatter that goes on in the West about "rights" is dangerous gibberish.