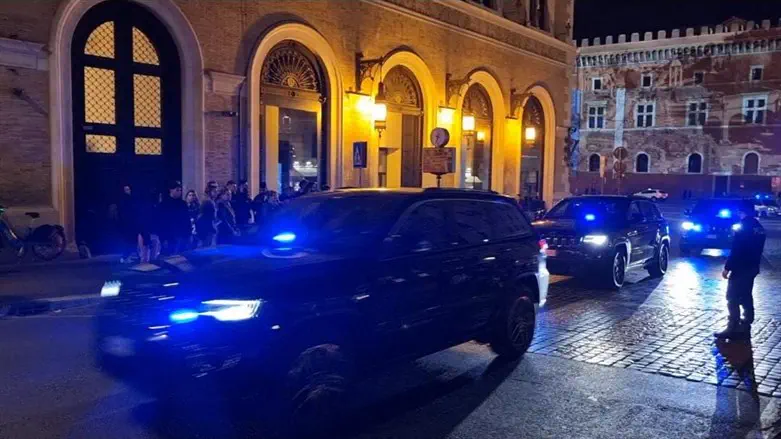 Netanyahu's convoy leaves the Colosseum
Hezki Baruch
Prime Minister Benjamin Netanyahu and his wife Sara took advantage of the final hours of their visit to Rome to hold a VIP tour of the Colosseum, the historic amphitheater, which was opened especially for the guests from Israel.
Israel's former Ambassador to Italy, Dr. Dror Eydar, is the one who guided the Netanyahus during the tour. The tour did not appear in the Prime Minister's itinerary that was distributed to the reporters accompanying him, likely so as not to convey a sense of "disconnect" by the couple from the mass demonstrations in Israel.
On Friday, Netanyahu and Italian Minister of Enterprises and Made in Italy Adolfo Urso met with a forum of senior managers from prominent Italian companies, including dozens of company heads.
Speaking at Urso's ministry in Rome, Netanyahu answered the company heads' questions on water solutions in Israel in light of the drought that Italy has experienced in recent years, digital health and the Israeli experience in the field, and cyber and securing vital infrastructure and the potential for Italian-Israeli cooperation in this field, among others.
Netanyahu said that in the near future, everything will be technologically based, and, therefore, the future will belong to those who innovate. As an example, the Prime Minister mentioned Japan, which a few years ago, as a result of his visit there and the arrival of the Japanese Prime Minister in Israel, along with many important businesspeople, has seen a jump in bilateral trade worth billions of dollars.
Netanyahu said that in his view, there is great potential for commercial and economic cooperation with Italy as well, which constitutes a major opportunity.
Later on Friday, Netanyahu met with Italian Prime Minister Giorgia Meloni at the Chigi Palace in Rome.
Netanyahu was welcomed by an honor guard; the national anthems of both countries were played.
In statements to the press following the meeting, Netanyahu said, "We have indeed a friendship, first of all a friendship between Italy and Israel that has been a long one and a growing one, but I think it's about to take on an even greater dimension."
"I was greatly impressed with the opportunity to sit down and have a lengthy conversation with you, both privately and then with our delegations, and I'm impressed with your vision and your leadership and your decision to bring Italy forward and bring the Israeli-Italian relationship forward," Netanyahu told Meloni.
"I think there's room here for enormous collaboration and improvement," the Prime Minister continued. "I had the opportunity to meet many of the Italian business community before coming to this meeting and I'm further, even more convinced, that we can do great things which we discussed in our meeting."
He noted that Israel and Italy can cooperated on issues related to water, gas and cyber security.