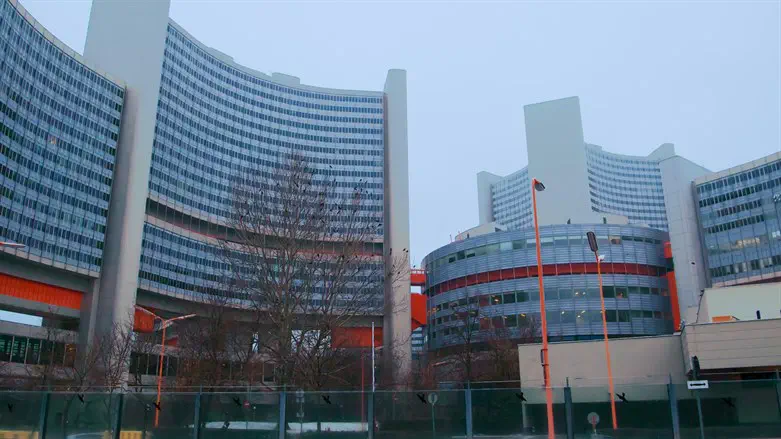 Vienna International Centre, where IAEA offices are located
iStock
The UN nuclear watchdog is in discussions with Iran on the origin of uranium particles enriched to up to 83.7% purity, very close to weapons grade, at its Fordow enrichment plant, a report by the organization seen by Reuters confirmed on Tuesday.
Diplomats said last week that the agency had found the traces at the Fordow Fuel Enrichment Plant (FFEP), where Iran is enriching uranium to up to 60% purity. Weapons grade is around 90%. While spikes in enrichment levels can occur and this could have been accidental, this spike is relatively large.
The traces were found in the product from the two interconnected cascades, or clusters, of advanced centrifuges at Fordow that are enriching to up to 60%. The International Atomic Energy Agency chided Iran in an earlier report for making substantial changes to those cascades without informing it.
"Regarding the origin of the particles enriched above 60% U-235, identified after the implementation of the new cascade configuration at FFEP, discussions with Iran are still continuing," the confidential IAEA report to member states said, according to Reuters.
"Iran informed the Agency that 'unintended fluctuations in enrichment levels may have occurred during transition period at the time of commissioning the process of [60%] product (November 2022) or while replacing the feed cylinder'," it added.
The report also said Iran's stock of uranium enriched to up to 60%, which is being produced at two sites, had grown by 25.2 kg to 87.5 kg since the last quarterly report. The total stockpile of uranium enriched to that and lower levels is estimated at 3,760.8 kg, the report said.
Iran denied last week's report by IAEA inspectors, insisting it had not made any attempt to enrich uranium beyond 60 percent.
On Monday, Iran said that IAEA chief Rafael Grossi will visit Tehran "in the coming days following the uranium discovery.
Meanwhile, talks between Iran and world powers on reviving the 2015 Iran nuclear deal remain stalled and have been since September, when Iran announced it had submitted its comments to the US response to the European Union's draft for reviving the 2015 Iran nuclear deal. A senior Biden administration official said the Iranian response "is not at all encouraging."
A US official later said that the efforts to revive the 2015 Iran nuclear deal have "hit a wall" because of Iran's insistence on the closure of the UN nuclear watchdog's investigations.