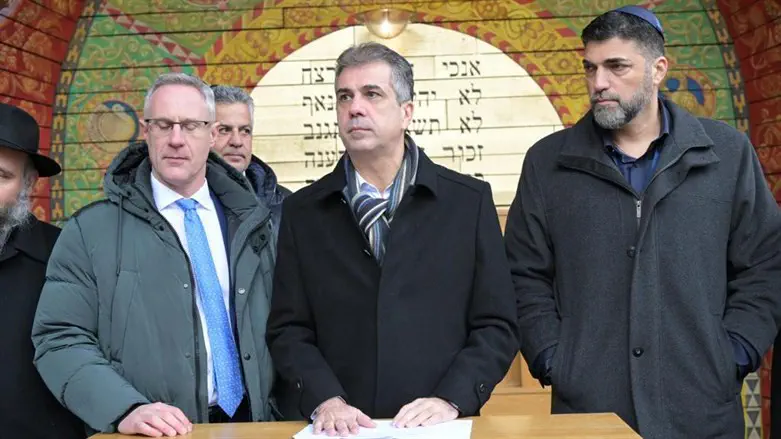 Eli Cohen in Babi Yar
Shlomi Amsalem/GPO
Air raid sirens sounded during a meeting between Foreign Minister Eli Cohen and his Ukrainian counterpart Dmytro Kuleba on Thursday morning in Kyiv.
Later, Cohen is scheduled to meet with Ukrainian President Volodymyr Zelenskyy.
Upon landing in the country, the Foreign Minister announced that Israel would reopen its embassy in the capital. This is the first visit by an Israeli and Middle Eastern minister to Ukraine since the onset of the war last year.
Cohen arrived in an armored train accompanied by a heavy security detail. He began his visit in Bucha, where he toured the church where a mass grave was discovered. "Many innocent people were killed here. We can't ignore the scenes we saw; we hope that this place can go back to quieter and better days," he stated.
Cohen refrained from condemning the Russian operation and only mentioned the Ukrainian nation. "We are on an important visit of solidarity with the Ukrainian people who have been subject to a very severe attack over the past year. The state of Israel won't sit on the fence; it supported Ukraine in the international institutions, it administered humanitarian aid, and it will continue to do so."
Cohen also visited Babi Yar and attended a memorial ceremony with local Jewish community leaders.