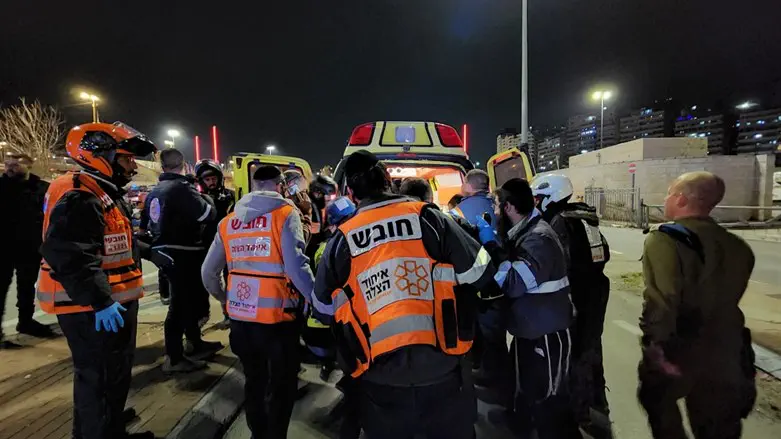 Scene of the attack
United Hatzalah spokesperson
A terrorist stabbed an Israeli Border Police officer at the Anata Checkpoint in eastern Jerusalem Monday evening, in the second such stabbing attack in two hours.
Medical personnel performed CPR on the victim and evacuated him to Hadassah Hospital on Mount Scopus in critical condition.
United Hatzalah volunteer EMT Nachum Yozvitz, who arrived first at the scene, said: "A young man was critically injured on a bus. When we took him out of the bus together with additional EMTs, he was pulseless and not breathing. We initiated CPR at the scene and he was then transported to the hospital in an intensive care ambulance while undergoing continued resuscitation efforts."
The police said that the attacker was a 13-year-old boy who pulled a knife on officers during an inspection of a bus at the checkpoint. A civilian security guard responded by shooting at the attacker and struck the officer who was stabbed
The attacker was arrested.
On Monday afternoon, a 17-year-old boy arrived near the Western Wall after he was stabbed at the Chain Gate of the Old City of Jerusalem.
Magen David Adom (MDA) medics and paramedics treated the teenager at the scene, and evacuated him to Hadassah Ein Kerem Medical Center in mild to moderate condition.
"The wounded man arrived at the tunnel near the Western Wall conscious, with a stabbing wound to his body. He told us that he was stabbed near the Chain Gate and ran towards the Western Wall. We provided medical treatment that included stopping the bleeding and dressing the wound, and evacuated him in light and stable condition for further treatment at the hospital," said MDA medics Yehuda Zand and Baruch Weissman.
The police have determined that it was a terrorist stabbing attack and that the attacker has been arrested. The suspect has been identified as a 14-year-old resident of the Shu'afat neighborhood of Jerusalem.