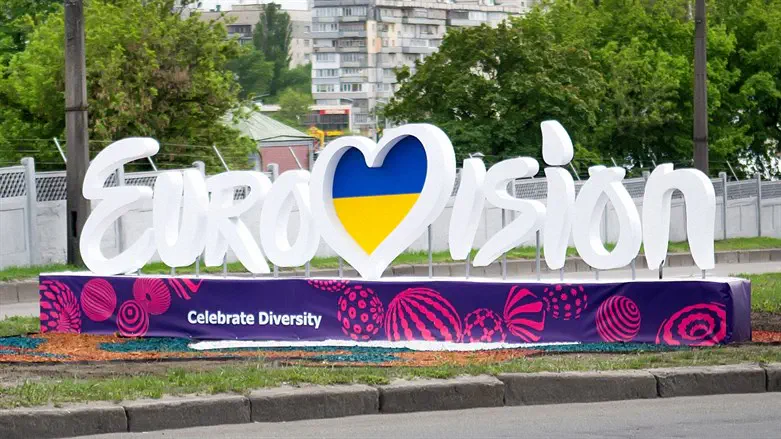 Eurovision logo
iStock
The European Broadcasting Union (EBU) Director General, Noel Curran, on Tuesday sent a letter to Prime Minister Benjamin Netanyahu in which he expressed his concern about Communications Minister Shlomo Karhi acting to shut down Israeli national public broadcaster, KAN, which he has threatened to do in the past.
"Causing particular concern were recent remarks by Likud MK and Communications Minister, Shlomo Karhi, that challenged the freedom of the press and threatened to shut down KAN's news operation. In one radio interview, he is reported as saying: 'the public shouldn't fund one particular channel, there should not be public broadcasting,'" Curran wrote in his letter, as quoted on the EBU website.
"Without a functioning news operation, KAN would no longer meet its commitment to a full range of programming as public service media, putting in doubt its eligibility for EBU membership and ability to take part in major events such as the Eurovision Song Contest," warned Curran.
Curran said, "Independent news and information form an integral component of public service media organizations and make a key contribution to media pluralism in well-functioning democracies…. With the primary interest of the public in mind, that directly funds KAN, we trust the new government will also safeguard the independence of KAN and enable it to continue to fulfil its mission in democratic society".
Since its creation in 2017, noted the EBU, KAN's television, radio and online offer has included a diverse range of news and information, entertainment, cultural and educational content. Its membership of the EBU also enables the broadcaster to benefit from world-class sports rights, including the 2022 World Cup, and live entertainment, notably the Eurovision Song Contest that was organized by KAN in 2019, following Israel's win the previous year.
"The EBU's responsibility is to ensure that it supports all our Members in their mission to serve the interests of the general public in the best possible manner. These developments risk undermining KAN's capability to meet its commitments as a member of our international alliance of public service media organizations," said Curran.
Karhi said in response to the letter, "To the best of my recollection, we declared our independence as a Jewish and democratic state about 75 years ago. I expect democrats to respect democratic decisions. The citizens of Israel elected a right-wing government to implement a liberal economic agenda, including in the media market. I am committed to the Israeli public and not to one foreign body or another. We will find the solution that knows how to balance Israel's cultural expression in the world with the media competition and diversity that we want to bring to the media market."
Israel recently announced that popular singer Noa Kirel will represent Israel in the 2023 Eurovision Song Contest, which will take place in the UK.
"I am very excited and I feel that we are beginning a mission - and what a mission, it came by complete surprise - suddenly they tell me that I'm representing Israel at the Eurovision," Kirel said.
Last year, for the first time since 2014, Israel did not appear in the finals of the Eurovision Song Contest, after Israeli representative Michael Ben-David failed to finish in one of the top ten spots in the second semi-final.