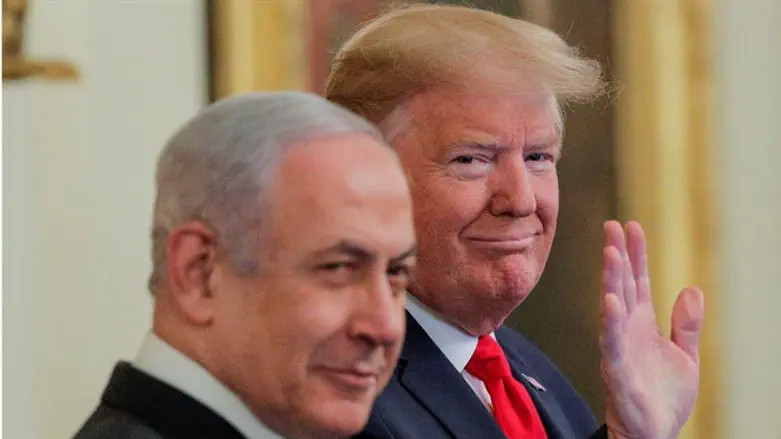 Birth of another terrorist nation
You had to wonder why, on Monday, Benny Gantz appeared so delighted at the Deal of the Century, and why, on Tuesday, Benjamin Netanyahu seconded that emotion.
When…in fact…it had the taste of old wine in new bottles.
Further, and to mix metaphors, haven't we watched this movie before? Yes, if you remember 1993 and the Oslo Accords, starring Yitzhak Rabin and Yasser Arafat. There they were, shaking hands, Bill Clinton beaming for having, at last, brought "peace to the region." Or rather, as it turned out, the PLO (now morphed into the PA) gets a piece of the land, recognition as legit, and the "right to self-determination." In other words, the prospect of a country within a country.
Yes, a two-state solution.
What does Israel get? Not much. Nothing really, except that Arafat will grudgingly stop murdering Israelis, at least not as often. 
Actually, to keep Clinton and the Arabs happy, Israel had to release 500 Arab terrorists from its prisons.
But quite a ceremony it was back then, and it was, yes it was a deal of the century in lowercase. Now it's in uppercase, and so what's new? Nothing.
Except that this time, in another ceremony, noontime in the White House, Tuesday, Jan. 28, 2020, as the president noted -- "the Palestinians get twice the amount of territory."  
How do they say mazel tov in Ramallah? But even the attendees at the White House, Jewish leaders among them, were celebrating and gloating. 
Hooray for this?
Israel will not be asked to sacrifice its security, said the president…but will be required to make "territorial concessions."
Again?
The president also expressed hope that "President Abbas" will come around and find the deal much to his liking.
Why wouldn't he? After denying the Holocaust, and after allegedly financing the Munich Olympics Massacre, and now his pay to slay operation, he gets a brand-new country.
Te question needs to be asked, which terror group gets to run this "Palestinian State?"

Who says crime doesn't pay?

He gets it smack in the heart of Biblical Israel…and the question needs to be asked, which terror group gets to run this "Palestinian State?"

Abbas' own terror group, Fatah? Or will it be Hezbollah, or Islamic Jihad, or Hamas? When does Iran weigh in?

It may start with the Palestinian Authority, which was handed Gaza is 2006, but was replaced, through force, within a year, by Hamas.

So count on all of them staging armed struggles, civil war, within "an independent Palestinian state," as Israel stands by to do what? 

As for the state within a state concept, it doesn't work. It did not work when the Palestinian Arabs took up residence in Jordan, and later Lebanon.

In both instances, they were kicked out…but only after the streets ran with rivers of blood…and that was among brothers…Arab to Arab.

What are the chances for Israel?

Magnificent…if you watched them today at the ceremony. Netanyahu was all smiles and gratitude, quite giddy.

As were the dignitaries in attendance…who kept cheering and applauding at what can only turn out to be…the birth of another terrorist nation.

New York-based bestselling American novelist Jack Engelhard writes regularly for Arutz Sheva.

He wrote the worldwide book-to-movie bestseller "Indecent Proposal," and the authoritative newsroom epic, "The Bathsheba Deadline," followed by his coming-of-age classics, "The Girls of Cincinnati," and, the Holocaust-to-Montreal memoir, "Escape from Mount Moriah," for which contemporaries have hailed him "The last Hemingway, a writer without peer, and the conscience of us all." Website: www.jackengelhard.com