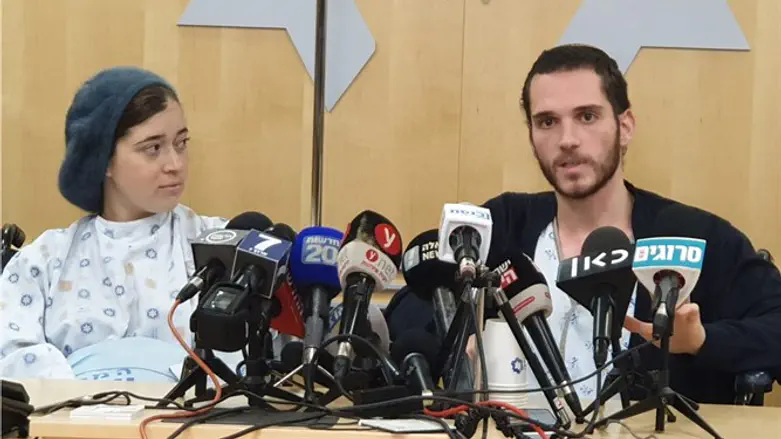 Shira and Amichai Ish-Ran
Eliran Aharon
Two of the victims of last Sunday's terror attack north of Jerusalem made their first public appearance since the attack, speaking to reporters at Jerusalem's Shaare Zedek Medical Center.
Last week, Shira Ish-Ran, 21, was wounded when Hamas terrorists opened fire on a bus stop outside of the Israeli town of Ofra, north of Jerusalem in a drive-by shooting attack.
Shira, who was 30 weeks pregnant at the time, was evacuated to the hospital in critical condition, where doctors were forced to perform an emergency caesarian section to deliver her son, Amiad Yisrael.
While Shira's condition stabilized and improved over the next few days, her son remained in critical condition, and later died.
Amichai Ish-Ran, Shira's husband, was also wounded in the attack, after he shielded her with his body as the terrorists continued to fire at the bus stop. Five other civilians were also wounded.
Speaking to reporters at a press conference in Shaare Zedek Sunday evening, the couple expressed their thanks for the support they have received following their brush with death.
"It is so wonderful to be part of the [Jewish] people," the couple said, saying they had received "letters, messages, and visitors all the time, to the point that we had to tell people to stop. They sent flowers, food for Shabbat, candy from Jews all over – it's just amazing."
Amichai said that the couple's son, Amiad Yisrael Ish-Ran, who died three days after his birth, had brought people across the country together in prayer, despite the briefness of his life.
"Our baby managed to do in the three short days that he was alive more than what the rest of us manage to do…he simply brought us together…everyone came together and wanted to join together to strengthen us. Everyone felt connected. I'm so proud to be part of this people."
Shira expressed her thanks to the Shaare Zedek medical staff and paramedics who helped save her life.
"I want to give special thanks to the hospital staff. It isn't easy to be a patient. Words cannot describe how much support they gave us emotionally and physically. Thanks to the paramedics, who saved my life. And of course, thank God."
"I lost a great deal of blood in the terror attack, and I needed a lot of blood transfusions. I feel like the blood of the entire Jewish people is flowing through me, strengthening me with every step. The Jewish people is strengthening me physically. The blood of the entire Jewish people is coursing through my veins right now – not my [blood] at all – and it gives me a great deal of strength."