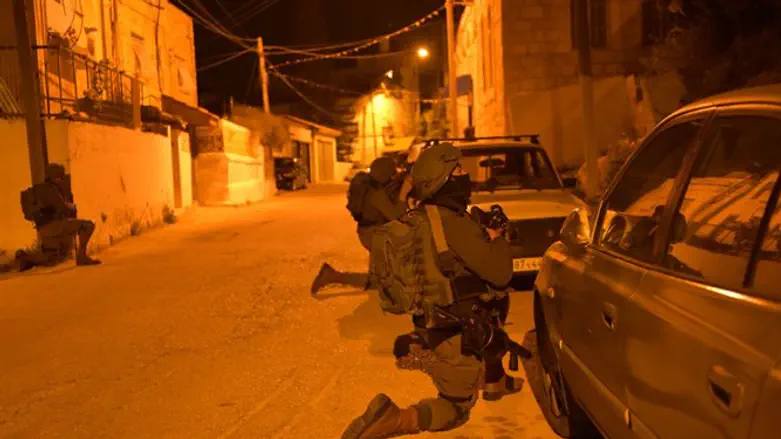 Terrorists arrested (archive)
IDF Spokesperson's Unit
Hamas confirmed on Wednesday night that terrorist Salah Omar Salah Barghouti, who was killed by Israeli security forces near the village of Surda in the Ramallah area, carried out the attack at the Ofra junction on Sunday.
Salah Barghouti, 29, a Hamas terrorist from the village of Kobar near Ramallah, is the son of senior Hamas terrorist Omar Barghouti, who was imprisoned in Israel for 25 years.
Salah was eliminated night on Wednesday evening while trying to escape arrest and attempting to Israeli forces who tried to apprehend him.
The IDF, Israel Security Agency (Shin Bet) and the Yamam counterterrorism unit arrested the other terrorists who carried out the shooting attack at the Ofra junction.
They were taken for questioning by the Shin Bet.
Seven people were wounded in Sunday's attack and a baby was murdered, Amiad Yisrael Ish-Ran, who was in the womb of his mother, Shira Ish-Ran, who was seriously wounded in the attack.
The funeral of the baby was held on Wednesday evening at the Mount of Olives in Jerusalem. Shira's father, Chaim Silberstein, eulogized the baby and said, "Amichai and Shira, our hearts are torn from grief over the pain and loss. But your new son, Amiad Israel, our young grandson, has already done much before he was four days old. He united the people of Israel who joined in prayers, hugs, and love."
"With determination he delayed the return of his soul to the Holy One, blessed be He, until his wounded parents met him, embraced him and said goodbye," he added.