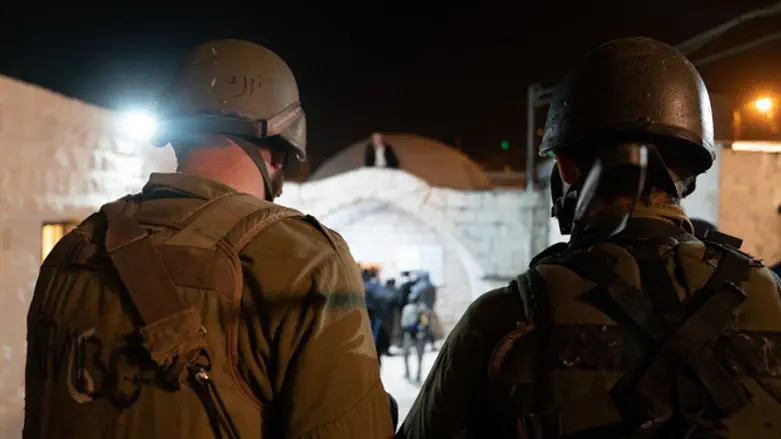 Soldiers outside of Joseph's Tomb
PR
Roughly 1,000 Israeli Jews were permitted to visit the Tomb of Joseph in the Palestinian Authority-controlled city of Shechem (Nablus) in Samaria overnight.
While Israel gave the Palestinian Authority autonomy over Shechem under the Oslo Accords, Israel retained special privileges at the tomb, a historic Jewish holy site.
Visits to the tomb by Jewish pilgrims must be coordinated with the local IDF command, which secures night-time visits to Joseph's Tomb.
During last night's pilgrimage, Israeli security forces found two hand grenades inside the tomb complex. The explosive devices appeared to have been manufactured in an underground weapons lab, and placed at the site by Arab terrorists targeting Israeli visitors.
According to an army spokesman, terrorists operating in Shechem also opened fire on an IDF jeep, and a number of rioters hurled firebombs and stones at Israeli soldiers deployed to protect the convoy of visitors.
One suspect believed to have been involved in the shooting attack was apprehended and taken into custody.
"Overnight, IDF, Border Police, Israeli Police and Civil Administration secured the entrance of a thousand worshippers to Joseph's Tomb in Nablus," an army spokesperson said Wednesday
"Upon the forces' entrance, two self-manufactured grenades were found in the area of the tomb. They were detonated by sappers. No injuries or damage were reported."