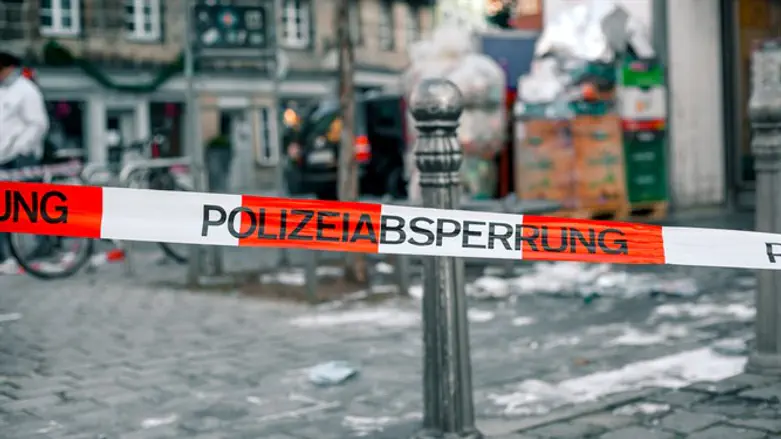 Crime scene Germany (Stock)
iStock
A Jewish teenager was found dead outside of the city of Mainz, Germany Wednesday, after apparently being raped and then strangled, authorities said Thursday.
Two men are suspected by German authorities in the murder-rape case, including a 35-year-old Turkish national and a 20-year-old Iraqi migrant.
While German police have taken the Turkish man into custody, the second suspect remains at large, police said. The Iraqi man, identified as Ali Bashar, had been living in a shelter established for refugees in Wiesbaden's Erbenheim district, authorities said. The victim's body was found near train tracks in the Erbenheim district.
The victim, who has been identified as 14-year-old Susanna Maria Feldman, was found outside of Wiesbaden, north of Mainz. Authorities say the girl was reported missing on May 23rd, after having gone out with friends the night before.
During a press conference Thursday, authorities said the girl's disappearance was not initially treated as a criminal case, because of the victim's frequent absences from school.
Based on a study of the body, police said Thursday that Feldman had been strangled.
Police say Bashar left Germany on June 2nd, along with his parents and five siblings. Bashar had been living in Germany since October 2015.
According to a report by the Frankfurter Allgemeine Zeitung, Bashar and his family had returned to Iraq. German authorities have issued an international arrest warrant for Bashar.
Local German media outlets identified the suspect as the girl's boyfriend.
Bashar reportedly has a history of violent crime, and is suspected in a separate rape case involving an 11-year-old girl.
The Central Council of Jews in Germany said in a statement that the background of the crime was "unclear", but said it expected local law enforcement officials to provide details on the crime quickly.
"A young life has been put in a cruel way. Our deep compassion applies to relatives and friends. Susanna was a member of the Jewish community of Mainz."

"At present much of the background is still unclear. We expect the law enforcement authorities to provide rapid and comprehensive information as well as tough consequences for the perpetrators."