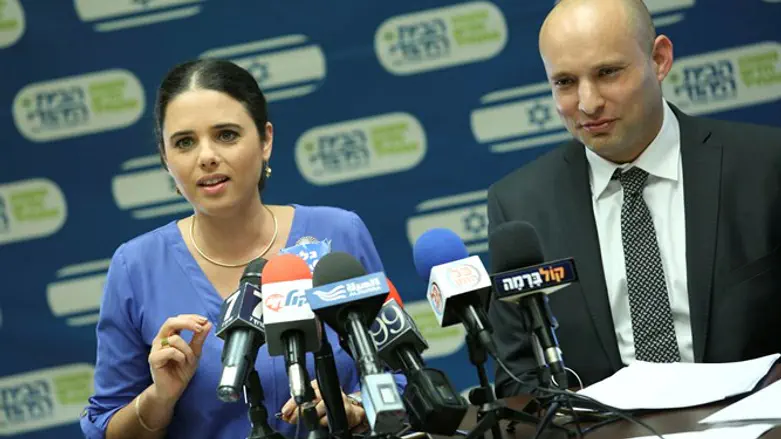 Naftali Bennett and Ayelet Shaked
Hillel Meir/ TPS
Education Minister Naftali Bennett (Jewish Home) and Justice Minister Ayelet Shaked (Jewish Home) praised Israel's Supreme Court for delaying the demolition of several homes in the Netiv Ha'avot neighborhood.
Fifteen homes in Netiv Ha'avot, located in the Gush Etzion town of Elazar, were ordered demolished in December 2016, after a disputed strip of land was found to run through them. The remaining homes in the neighborhood are entirely on state land.
Land in Judea and Samaria was once classified as state land, private property or of undefined status. Several years ago, the Supreme Court decided that land of undefined status is to be considered private Arab land.
"After much effort, the Supreme Court agreed to the State's request and delayed the Netiv Ha'avot eviction by three months. This was a humanitarian decision made in order to allow the residents to move 'from their homes to their new homes.' Obviously, it would have been better if the original appeal [to destroy the homes] had been rejected outright. Now, we are working to build a new town for them," Shaked and Bennett said.
"We thank the extreme left-wing organizations for their success in creating a new town in Judea and Samaria, one which cannot be destroyed. For every home evicted due to leftist appeals, we will build a new town."
Gush Etzion Council Head Shlomo Ne'eman said, "We are thankful for the court's decision, which put logic before justice, and took families and children into consideration. The decision allows the residents to move from their homes to temporary homes, allowing them humanitarian conditions in an inhumane situation of destroying their life's home."
"We are looking towards the future: towards growth, construction, and developing the settlements. The Israeli government's decision to develop the area, together with teh Supreme Cout's delay of the order, give us careful optimism and [hope] that justice will be seen and done in our area. Slowly but surely, complete sovereignty will come to Gush Etzion. For now, we are all joining hands to develop the settlements and strengthen our amazing community."
Defense Minister Avigdor Liberman (Yisrael Beytenu) said, "I am thankful for the Supreme Court's decision, which accepted our stance and delayed the demolition in Netiv Ha'avot. The Supreme Court's decision will allow us to complete talks with the residents, and to come to an agreement with them."