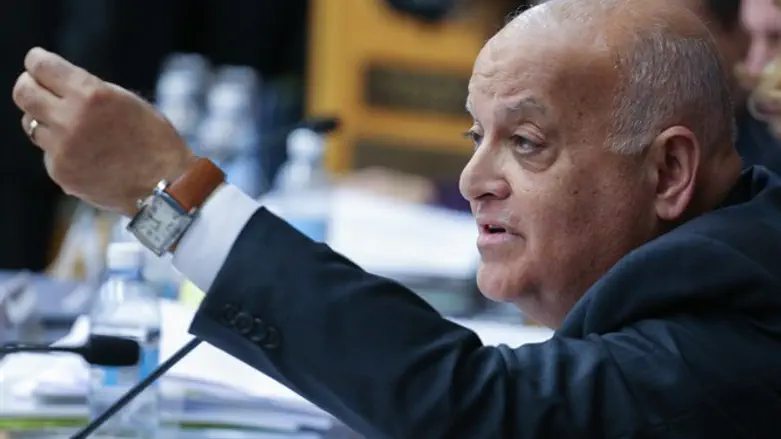 Salim Jubran
Flash 90
Supreme Court Deputy Chief Justice Salim Jubran attacked the Nationality Law promoted by the government and called on the State to change the national anthem so that Arab citizens of Israel, who do not identify with a Jewish state, might be willing to sing it.
In an interview with the Hebrew journal The Lawyer on the occasion of his departure from the bench, Jubran said that "the Nationality Law is totally superfluous; I don't understand why it's needed at all. There were right-wing governments in the past, as long ago as the days of Menachem Begin - peace be upon him - and none of the prime ministers thought such a law was necessary."
"Why did they even mention such a thing, and if they did mention it, why insult the Arabic language? The bill proposes defining Arabic as a language with special status. I don't understand this definition at all. What is the difference between that and the definition of Arabic as an official language as it is today? This way simply causes the Arab public in Israel heartache when you take away their language's official status."
Jubran hopes that in the current Knesset there are "intelligent Knesset Members" who will not allow the bill to pass.
According to Jubran, the minority in Israel is dispossessed. "There are many deficiencies in terms of how to deal with the Arab population in Israel, deficiencies that the State must consider and rectify. Take education in the Arab sector: For now, only those under Church private school auspices receive an excellent education. As proof, these schools are at the top of Education Ministry indices in the fields of mathematics, high-tech, and physics. But what about the rest?
"The education system in the Arab sector suffers from a shortage of classrooms, a high drop-out rate, and outdated curricula. I don't understand why Arab academics aren't involved in education. It is time, in my opinion, to establish a pedagogical council in which Jewish and Arab academics work to build an innovative learning program that will suit Arab sector students," he said.
Judge Jubran says that "there are places of employment that aren't prepared to accept Arab academics because of prejudices and only because they are Arabs, but the phenomenon of non-acceptance of the Israeli Arab is unfortunately expressed in other places in society. When two Arab restaurant workers are forbidden to speak Arabic, when they claim the value of apartments in residential buildings will deteriorate if an Arab family buys an apartment, and when Be'er Sheva doesn't want the announcer on the bus to announce travel stops in Arabic, it can't be seen differently."
Recordings of travel stops and electronic bus schedules are in both Hebrew and Arabic.
"It indicates ignorance, too. You'll also see signs in Arabic on Israeli roads. There are perturbing mistakes in the signs, mistakes that embarrass the Arabic language," observed Jubran, perhaps having never scrutinized Israeli traffic signs in English. "All these racist phenomena must be stopped and we must give respect to the Israeli Arab citizen wherever he is," he complained.
Jubran claims that Arab youths have a problem volunteering for National Service "because it's part of the Defense Ministry. This deters the young Israeli Arab. If there would be a civilian administration operating with no connection to the Defense Ministry to direct Arab youths to serve in hospitals and similar frameworks, I see no problem with Arab youth in Israel contributing to the community."
Jubran also related to the incident surrounding the national anthem at Chief Justice Hayut's swearing-in ceremony, at which Jubran chose not to sing Hatikvah.
"The truth is that this whole story shouldn't have happened and wouldn't have happened if the television photographer hadn't decided to take a close-up photograph of me while the anthem was being sung and to reveal what was already known to everyone. In all official events, even in the days when I was president of the Rotary organization in Israel, I always respected the national anthem by standing and not singing, and no one ever made a fuss about it, certainly not in the world media.
"If one day we change the words of the national anthem, I think I'll have no problem singing it. I don't say what words to add to the national anthem, but I definitely think that words should be added to suit the Arab citizen in Israel. If the State expects all its citizens, including the Arabs, to respect its national anthem, it needs it to respect them and their rights."
Jubran explains that "at the moment, I can't sing an anthem that includes the words 'the Jewish soul longs'. To my great satisfaction, I received the backing of many people, including my fellow judges, the Prime Minister and a handful of Jewish ministers. Everyone supported me after this unnecessary incident."