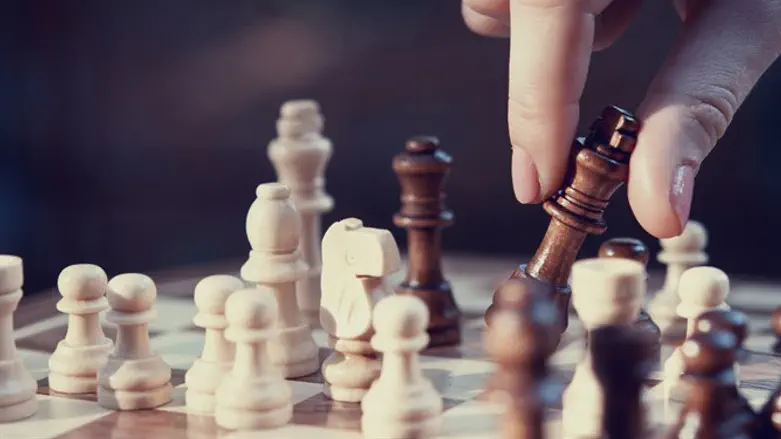 Chess (illustration)
Thinkstock
Calls grew on Tuesday for the World Chess Federation, FIDE, to take action against Saudi Arabia after it refused to grant entry visas to Israeli chess players so they could participate in the world championship taking place in Riyadh.
The head of the English Chess Federation called for Saudi Arabia to be stripped of the world championships over its exclusion of the Israeli players, reported The Telegraph.
While the Israeli players were not allowed entry to Saudi Arabia, the report noted, players from Qatar and Iran, which have strained ties with Saudi Arabia, were granted visas to participate in the tournament.
Dominic Lawson, president of the English Chess Federation, said on Tuesday, "This contract for the World Rapid Chess Championship was signed on the understanding that the Saudis would ensure that Israeli masters would be able to play."
"The fact that this has not happened means FIDE should refuse to award further such events to the Kingdom, despite the generosity of the Saudi prize fund," he added.
"Imagine if the Saudis had bid for the FIFA World Cup and then barred an Israeli team that had qualified: that is an exact analogy," said Lawson who noted, "The Saudis gave visas to Qatari players, even though they are sanctioning that regime, and to Iranian players who come from a country with which the Kingdom is involved in a proxy war - so they display flexibility when they want to."
"The FIDE motto is Gens Una Sumus, and so this action makes a mockery of FIDE's proud claim that chess breaks down the barriers between nations. It is shameful," he charged.
The Anti-Defamation League also called on FIDE to take a strong stand against Saudi Arabia for its refusal to allow entry to Israel's chess team.
"Sports and competition should serve as a bridge between groups and nations. It is an accepted principle in competitive sports – and part of FIDE regulations – that hosts of international competitions must permit all competitors to participate. The Saudi refusal to provide visas to the Israeli team is a violation of this principle and a violation of sportsmanship," said ADL CEO Jonathan Greenblatt in a letter to Georgios Makropoulos, Deputy Chair of FIDE.
"While FIDE officials did refer to the boycott of Israeli athletes in the opening ceremony today, as the sponsoring body FIDE should make clear to the Saudi hosts that it will not be complicit with discrimination against or a boycott of any team regardless of its national origin," Greenblatt added in a statement.
"FIDE must send a message that if Saudi Arabia continues with this policy, it will not be eligible to host future championships," he said, noting that "Saudi Arabia initially refused to issue entry visas to Qatar and Iranian teams too, but eventually issued them in advance of the championship. The Israeli team alone has been refused entry."
The Israel Chess Federation similarly demanded on Monday that FIDE deny Saudi Arabia the right to host the world championship for the next two years.
The Israeli federation is also requesting that the seven Israeli players be financially compensated.
Israeli athletes often face difficulties when competing around the Middle East due to hostility toward their country.
Just last month, Israeli judokas who participated in a tournament in Abu Dhabi were barred from displaying their national symbols.
The head of the Judo Federation in the United Arab Emirates later apologized for a local athlete's refusal to shake the hand of his Israeli opponent.
In a more recent incident, an Iranian wrestler was lauded by his government after he intentionally lost an international bout at a tournament in Poland over the weekend to avoid having to face an Israeli opponent.
Earlier this year, Iranian chess officials banned a 15-year-old from domestic chess tournaments and the national team after he played against an Israeli opponent at an international chess event.
In 2011, Iranian chessmaster Ehsan Ghaem Maghami was expelled from an international chess tournament after refusing to play an Israeli opponent.
In 2014, the president of the Sudanese Chess Association resigned following a game of chess that took place against an Israeli player at the World Youth Chess Championships in South Africa.