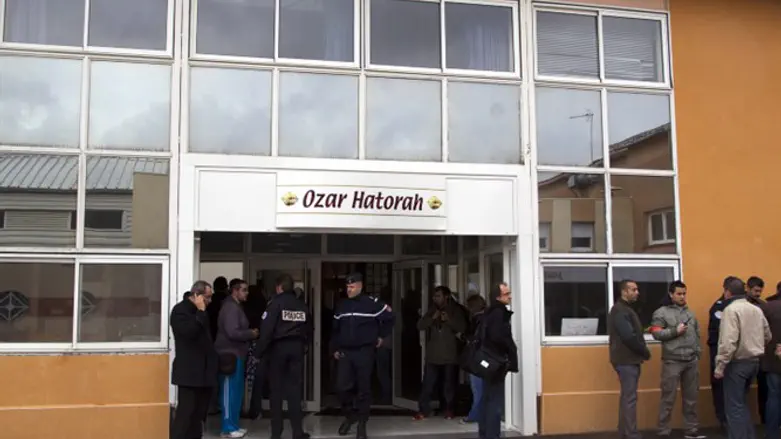 Otzar Hatorah school in Toulouse
Flash 90
Leaders of France's Jewish community and relatives of the murderer of four Jews in Toulouse protested the staging of a play on his life at the prestigious Avignon theater festival.
The play, titled "I Love Death as You Love Life," which premiered last week at the Festival of Avignon in southern France, is about the last three hours in the life of Mohammed Merah, the Islamist who in 2012 murdered three French soldiers before also executing three children at a Jewish school in Toulouse, Myriam Monsonégo, and brothers Arié and Gabriel Sandler, along with the boys' father, Yonathan Sandler.
Ariel Goldmann, a vice president of the CRIF umbrella group of French Jewish communities and spokesperson for the SPCJ communal security unit, called the play "a disgrace and an ignominy" in a statement Wednesday that he co-authored with three other notable members of his community.
The play is an "enterprise of justification being falsely presented under the alibi of artistic expression," added Goldman in his letter, which was cosigned by Patrick Klugman, Elie Korchia and Jacques Gauthier-Gaujoux.
But the Algerian playwright Mohamed Kacimi, who authored the play, defended it as "anything but a justification or rehabilitation of Merah" but rather as "an interrogation about a monster created by society."
The play, featuring two actors separated by a thin wall, is based on transcriptions of talks between Merah and counterterrorism agents who besieged Merah's hiding place two days after the attack on the school. Merah, 23, was killed in a shootout with police when they broke in, following the breakdown of negotiations aimed at getting Merah to come out peacefully.
In one scene, the actor portraying Merah tells the other actor that he had ordered a slice of four-cheese pizza after killing the children.
Some of the objections to the play, including by the National Bureau for Vigilance Against Anti-Semitism, were over what critics said was the "banalization" of Merah's actions, and one of several perceived attempts to attribute them to his personal circumstances rather than ideology and portray him as vulnerable.