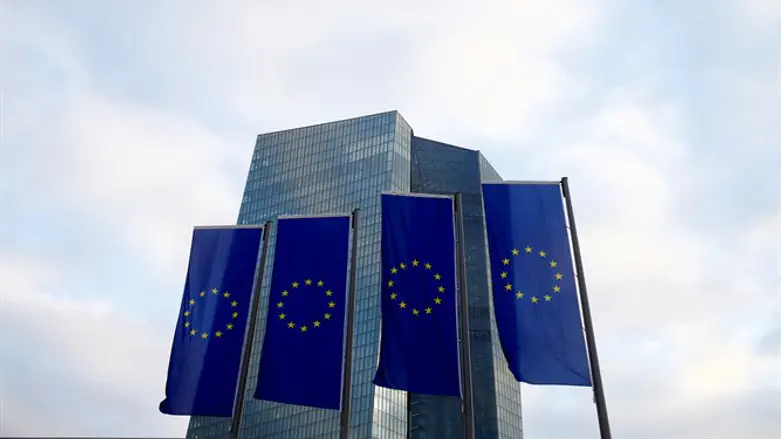 European Union flags
Reuters
JTA - In a reaction to attempts in Europe to boycott Israel, the European Union's report on commercial competition for the first time included a rejection of such initiatives.
The reference to boycotts, which does not name Israel specifically, was introduced earlier this year into the draft of the Report on Competition Policy for 2016 by a pro-Israel European Parliament lawmaker from Italy Fulvio Martusciello, JTA learned Wednesday.
The clause on boycotts states that the European Commission "Underlines the need to fight against unfair collective boycotts, defined as a situation in which a group of competitors agree to exclude an actual or potential competitor, as restrictions of competition by object."
A spokesperson for Martusciello, who is the chair of the European Parliament's Delegation for Relations with Israel, confirmed that the clause was introduced by him to "translate for the first time into EU commercial policy the stated objections of EU leaders to BDS," an acronym for the Boycott, Divestment and Sanctions movement against Israel.
Martusciello introduced the clause not in his capacity at the Delegation — a body responsible for maintaining and developing parliamentarian ties between Jerusalem and Brussels – but as Rappporteur for the Competition Policy Report in the Economic Committee. The clause was introduced with the support of Martusciello's political group — the EPP center-right bloc, which is the Parliament's largest.
Martin Schulz, the former president of the European Parliament, has in the past said the European Union will not support attempts to boycott Israel. Several EU politicians expressed their objections to such initiatives in speeches. However, this attitude has not been carried over to official European Parliament documents reflecting a consensus within its increasingly-influential legislature.
Separately, Martusciello is also fighting against against a plan to remove Israel in 2017 from a list of countries eligible for credit benefits from the European Investment Bank. The Budget Committee of the European Parliament is considering removing from the list also Brunei, Iceland, Singapore, Chile and South Korea in addition to Israel, to exclude high income countries with high credit rating. It is also considering adding Iran to the list, a member of the committee told JTA.
But Martusciello is arguing for keeping Israel on the list, "as this will benefit to Palestine, Jordan and other counterparts in such an unstable region," he wrote in the justification for the amendment he is seeking to the draft of the list for 2018.