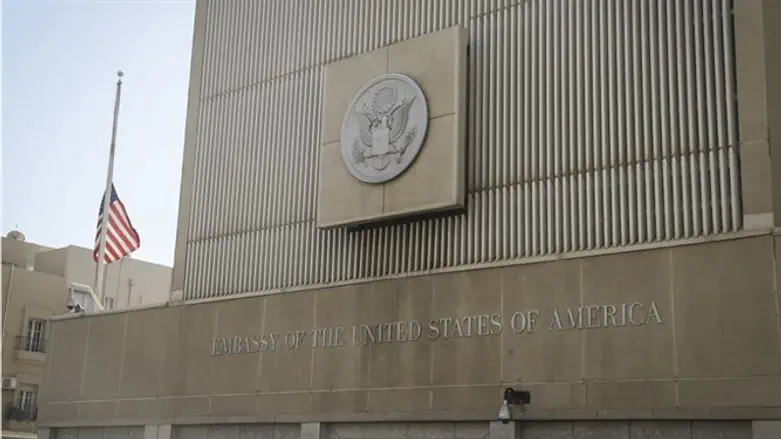 Current location of the United States Embassy in Tel Aviv
Flash 90
Arab foreign ministers adopted a resolution Monday rejecting what they termed "unilateral steps" that "jeopardize the historic and legal status" of Jerusalem. The ministers were seemingly referring to the possible move of the US embassy to Jerusalem, a move sharply opposed by Arab leaders. The ministers voted on the resolution during the Arab League Summit taking place in Jordan.
The Jordanian Minister of Foreign Affairs, Ayman Al-Safadi, said Monday that the resolution is one of "about 17" to be adopted later this week at a gathering of Arab heads of states in Jordan.He said the ministers also reaffirmed the need to establish a state of Palestine alongside Israel. Earlier this month, Arab League foreign ministers adopted a resolution against any attempt to move diplomatic missions to Jerusalem.
The League "considers setting up any diplomatic mission in Jerusalem or moving it to the city an explicit attack on the rights of the Palestinian people and all Muslims and Christians," the resolution, which was unanimously adopted, stated.
The resolution also stated that moving diplomatic missions would be "a serious violation of international law and the Fourth Geneva Convention, and relevant Security Council resolutions."
President Trump promised while campaigning to recognize Jerusalem as Israel's capital and relocate the American mission there, drawing fierce criticism from Palestinian Authority officials and concern from the European Union.
Despite the enthusiasm expressed by Israeli officials over a possible embassy move, Trump has seemed to renege on his pledge to relocate the embassy since his inauguration, saying in an interview in late January that "I don't want to talk about it yet. It's too early."
However, US Vice President Mike Pence said on Sunday at the annual gathering of the AIPAC lobby that "the president of the United States is giving serious consideration to moving the United States Embassy from Tel Aviv to Jerusalem," although he did not provide any further specifics.