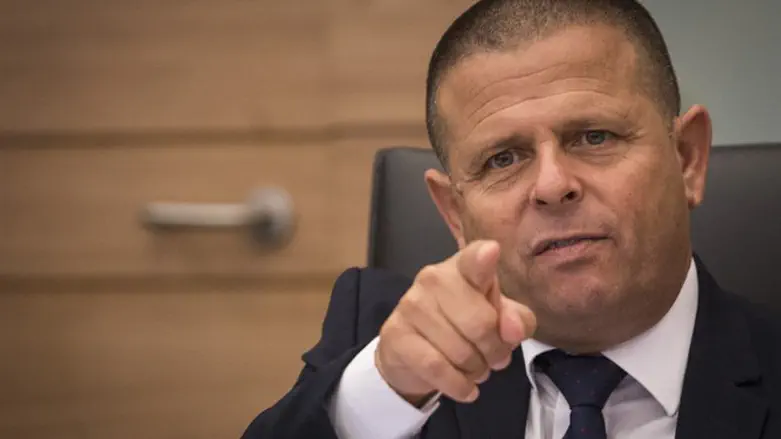 Eitan Cabel
Flash90
MK Eitan Cabel (Zionist Union) on Channel 2's Meet the Israeli Press program, spoke about a "deal" he reportedly made with MK Shelly Yachimovich (Zionist Union).
In the deal, Cabel reportedly promised to back Yachimovich's bid to lead Histadrut in return for her support of Cabel's bid for party leadership.
"I want to apologize to the public for some of the unpleasant things I said, which I should only have said behind closed doors," Cabel told his viewers. "Usually, I don't speak this way - it was behind closed doors, with people I'm close to. I'm ashamed of what I said, but only about what I said.
"The self-righteousness and fake purity makes me angry, and the only thing we wrote in our coalition agreement is that there will be two parties. We're politicians, we don't work alone. I bring a party of people who want to be part of the entire process. But even from the opposition, I'm still one of the main lawmakers.
"I'm very emotional. I just mortgaged my parents' and siblings' homes, and I see them taking what I built with so much work disappearing before my eyes. They told me I should handle it, and I said I'm not interested. They told me Shelly would betray me, that I lied to them. I never lied to anyone. I never sold submarines, I was never investigated and refused to answer, I was never in jail.
"At the end of the day, it's just an argument over whether we made a deal or didn't make a deal. I want to say - for G-d's sake! I don't want anyone to have to go through what I went through... The only thing bothering people is if there were conditions - and there never were any.
"Regarding the division of money, this is a party in which I have invested a lot of money. We don't have another shekel, and we can't take any more money until we get elected. I gave my entire heart and all my money to Opposition Leader Yitzhak Herzog (Zionist Union), and I stand behind him with all my strength.
"I believe Shelly should be head of the 'Histadrut' Labor Union and of the Labor party. Every few years, we have to deal with difficulties. We need to think about who we want to support. Shelly is worthy, and she is the best candidate to head the Histadrut.
"I never said I would run to be party head. Everyone has an agenda. There was no deal, and there never was. I lied to people during the meeting, because I knew they would take my party away otherwise."