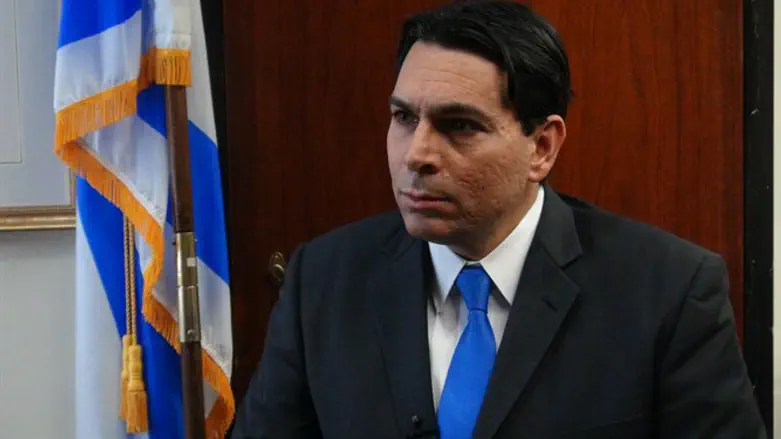 Danny Danon
Yoni Kempinski
Israel's Ambassador to the United Nations, Danny Danon, responded on Tuesday to President Barack Obama's remarks in an interview with Channel 2's Ilana Dayan.
In the interview, Obama insisted that he had been a friend to Israel during his time in office and also claimed that UN Resolution 2334, which condemned Israel's presence in Judea, Samaria and eastern Jerusalem, was "the best option to achieve peace."
"Despite the close cooperation between Israel and the United States during the administration of President Obama, unfortunately his tenure will be remembered with the harsh picture of the applause following the approval of the Security Council resolution against Israel," said Danon.
"The Obama administration left Israel alone in the Security Council vote against it and this fact cannot be changed," added the Israeli Ambassador.
Deputy Minister of Regional Cooperation Ayoob Kara (Likud) commented on Obama's remarks as well.
"Obama covered the knife in chocolate. He supported the division of Jerusalem, prevented the collapse of the evil empire of the Ayatollahs in Iran who are on their way to a nuclear bomb, and abandoned all the allies of the United States," said Kara.
Obama pointed out in the interview with Dayan that the U.S. continues to support Israel through financial aid. He further said that Prime Minister Binyamin Netanyahu had a friend in the White House when Obama was president, but Netanyahu did not always recognize that fact.
He dismissed Israel's assertions that his administration betrayed Israel by abstaining in the vote in the Security Council on Resolution 2334.
The outgoing President told Dayan that allegations against his administration "may work well with deflecting attention from the problem of settlements, they may play well with Bibi's political base, as well as the Republican base here in the United States, but they don't match up with the facts."
Earlier on Tuesday, Netanyahu told a visiting AIPAC delegation that Israel had "unequivocal evidence" that the Obama administration was involved in the planning of the anti-Israel resolution at the UN Security Council.
"We have unequivocal evidence that the Security Council Resolution passed in the UN against Israel was led by the Administration. There is no question whatsoever about that," he said.