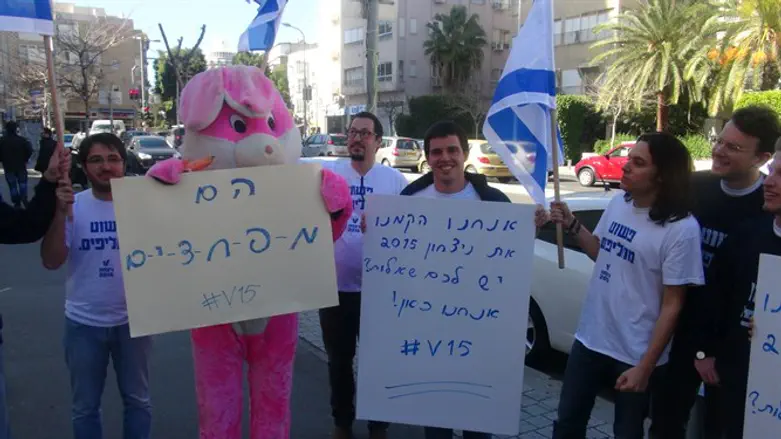 V15 activists
Yoni Kempinski
MK Yoav Kish from the Likud Party reacted on Tuesday to a decision made by the state comptroller which determined that the activity of the V15 organization in the last election was legal.
Kish stated that the decision made by the state comptroller about the last elections does not contradict the bill he is trying to push forward, which would have political organizations adhere to the same rules and limitations as political parties must during election campaigns. Kish stated that "the state comptroller is right. V15 did not break the law in the elections, they simply found ways around the law that allowed them to do what they did. That is exactly what I am trying to prevent."
"This law," he stated, "would ensure fair elections in this country and prevent private capital from interfering with elections which is what is happening in the US right now."
For example, he explained: "An organization that seeks to identify a group of potential voters and decide to drive them and only them to the polls will be seen as having a partisan identity" and be considered an active participant in the elections" with the same limitations as a political party on the amount of money it can spend and receive in donations that go toward the elections.
Prime Minister Binyamin Netanyahu decided to support the bill put forward by Kish in March of this year.
The bill would target organizations such as V15, which worked against Netanyahu and the Likud during the last elections. Reports said that V15 was funded for the most part by organizations from the United States and Europe in an attempt to unseat Netanyahu and appoint a leftist government instead.
V15 – Victory in 2015, a project of the One Voice group – was accused of being operated and funded by anti-rightist groups abroad, which gave the group money to set up an organization that would cause Netanyahu to lose. The group denied that it was representing foreign agents, and the Likud sought to have the group shut down, unsuccessfully.
According to reports, V15 is led by, among others, Jeremy Bird, who was the national field director for US President Barack Obama's 2012 campaign. V15 is also backed by the leftist One Voice organization, which receives money from the notorious New Israel Fund and raises most of its money in the US and Europe.
Reportedly, V15's goal was to recruit tens of thousands of volunteers for house-to-house canvassing, knocking on anywhere between 150,000 and 1 million doors — a method that was effective in Obama's first presidential campaign, in particular.
The group continued to operate, hiring hundreds of workers to knock on doors and offer to drive voters to the polls on Election Day, among other activities. But it was to no avail, as Netanyahu went on to decimate Zionist Union/Labor at the polls. As a result, the group said, Netanyahu, who "does not care" about Israelis but is only worried about "his own seat in the government," would be able to "continue his caesar-like rule."
"Unfortunately," the group said, Netanyahu's "scare tactics worked on too many people, who are afraid of something new. But we are not angry, nor do we need to be. Despite the tears in our eyes, our hearts are filed with hope."