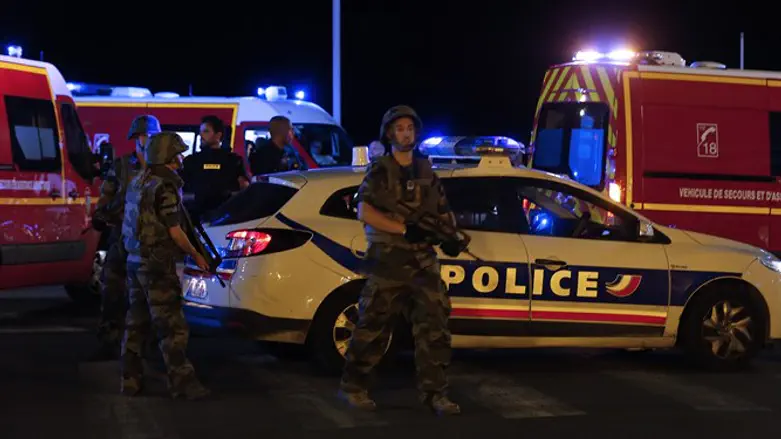 Scene of the attack in Nice
Reuters
Two elderly Jewish sisters who were in Nice at the time of Thursday's attack have finally been located after going missing for hours after the deadly terror attack.
80-year-old Carla Ben Shimon and 77-year-old Raymond Maman both live in southern France. They were located in hospital with serious injuries, but their condition is not believed to be life-threatening.
A third friend, who is believed to have been with them during the attack, was found this morning. She was in a hospital with severe wounds.
A Jewish doctor in the hospital told Arutz Sheva that many victims say they saw the terrorist talking with his collaborators before beginning his attack. Security forces are currently looking for others who were involved.
A total of 84 people were killed, including about ten children. Another 100 were wounded, about half of whom are children or teens.
The perpetrator was a 31-year-old French citizen, originally from Tunisia. He began by running people over with his truck, then opened fire with a handgun. Police at the scene killed him, and found more ammunition and hand grenades in the vehicle.
No organization has yet taken credit for the attack.
Prime Minister Manuel Valls has declared three days of mourning, while President Francois Hollande is extending the country's state of emergency by three months.