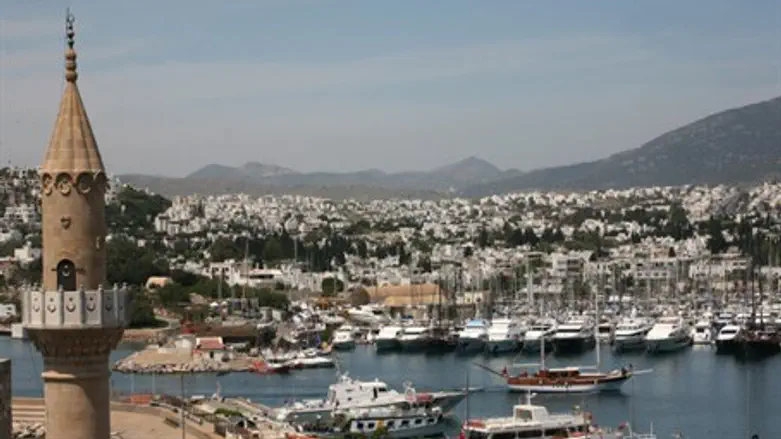 Turkey
Flash 90
Turkey and Israel will this weekend announce a deal on normalizing ties, ending a six-year diplomatic crisis sparked by a deadly Israeli raid on a Gaza-bound flotilla in which 10 Turkish nationals died, a report said Tuesday.
The Hurriyet daily said the two sides would make the announcement during final talks on June 26 after intensive diplomacy resulted in a compromise agreement on the partial lifting of Israel's blockade on the Gaza Strip.
Previously tight relations between Israel and key NATO member Turkey were significantly downgraded after Turkish "peace activists" tried to break through the blockade around Gaza and then used weapons stowed on board to attack IDF soldiers attempting to stop their ships.
Nine Islamist activists on board the Turkish-owned Mavi Marmara ferry were killed, with a tenth person later dying of his wounds, sparking a bitter diplomatic crisis.
Two of Turkey's key conditions for normalization - an apology and compensation - were largely met, leaving its third demand, that Israel lift its blockade on the Hamas-run Gaza Strip, as the main obstacle.
Under terms of the deal, Israel will allow the completion of a much-needed hospital in Gaza, as well as the construction of a new power station and a sea water distillation plant for drinking water.
Israel imposed its blockade on Gaza in June 2006 after Palestinian terrorists there snatched an Israeli soldier. The restrictions were tightened a year later when Hamas took control of the enclave, but eased significantly following a wave of international outrage over the flotilla carnage.
Meanwhile, Turkey will send aid to Gaza but channel it via the Israeli port of Ashdod rather than sending it directly to Gaza, the paper said.

Ambassadors to return
The announcement would be made after talks between top Turkish Foreign Ministry official Feridun Sinirlioglu and Israel's pointman on Turkish relations, Joseph Ciechanover, it added.
It did not say where the talks would be held.
The two diplomats would then meet again in July to formally sign the agreement after which ambassadors would return to the respective embassies and full ties would be restored.
Haaretz said Israeli and Turkish negotiating teams are to meet in a European capital on June 26 for a decisive round of talks on the reconciliation agreement.
Analysts have said Turkey may pursue a more conciliatory foreign policy following the departure of former prime minister Ahmet Davutoglu, who spearheaded an aggressive and interventionist strategy.
His successor Binali Yildirim last week said he wanted no permanent tensions with Black Sea and Mediterranean neighbors after serious ruptures not just with Israel but also with Egypt and Russia.
AFP contributed to this report