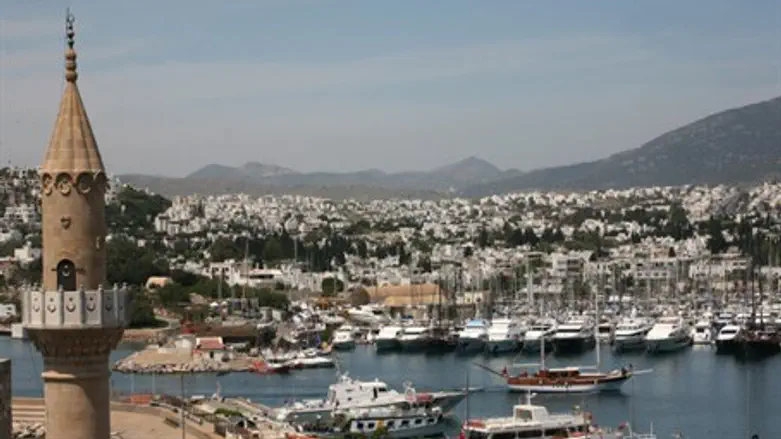 Turkey
Flash 90
New Turkish Prime Minister Binali Yildirim said he wants to have no permanent tensions with the country's neighbors after serious ruptures with Israel, Egypt, Russia and Syria in recent years, in comments published Friday.
Yildirim, a close ally of Turkish President Recep Tayyip Erdogan, in May took over the premiership from Ahmet Davutoglu who had spearheaded a policy of aggressively projecting Turkish power in the region - a foreign policy which largely backfired, alienating scores of former allies and drawing significant concern in Europe.
Some analysts have suggested that Davutoglu made way for Yildirim to allow a more reconciliatory foreign policy that would allow Turkey to mend bridges with its enemies and return to its former dictum of "zero problems" with neighbors.
"Israel, Syria, Russia, Egypt... we cannot have permanent enmity with these countries which border the Black and Mediterranean Seas," Yildirim said in his first major interview with Turkish reporters, quoted by the Hurriyet daily.
Relations with Russia tumbled to post Cold War lows when Turkey on November 24 shot down a Russian war plane over the Syrian border.
Moscow then blocked the sale of tours to Turkey, wrecking tourism in the south if the country where the industry was hugely dependent on Russian tourists.
"We need to look at the big picture," said Yildirim. "There is no hostility between our peoples. It's possible to go back to the old days and take our relations even further."
Relations between key NATO member Turkey and Israel were downgraded in 2010, after a Turkish ship attempted to illegally enter the waters around Gaza. When IDF soldiers attempted to stop the ship, supposed "peace activists" onboard pulled out weapons and attacked them. The ensuing struggle left 10 Islamist extremists dead and scores of others - both Islamists and Israeli soldiers - wounded.
Yildirim said Turkish diplomats were working on a solution for normalization, with the lifting of the Israeli blockade on Gaza the key condition.
"I don't think the remaining period will be very long" until a result for normalization is achieved, he said.

Rescuing ties?

Relations with Egypt suffered a similar downturn after the 2013 ousting of Egyptian president Mohammed Morsi, a close Ankara ally, and Erdogan has denounced President Abdel Fattah al-Sisi as an "illegitimate tyrant".
Yildirim said Ankara would never accept the 2013 "coup" but said "this should not be an obstacle in the commercial relations between our countries".
"The development of relations is in the interest of the two peoples," he added.
On the Syria conflict, Turkey has always called for the ousting of President Bashar al-Assad and opposed attempts by Syrian Kurds to carve out an autonomous region.
"The territorial integrity of Syria is important for us," Yildirim said.
AFP contributed to this report