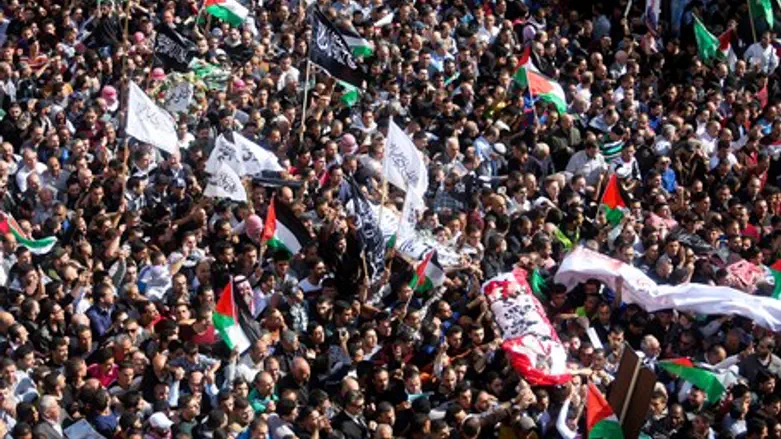 Hevron funeral after bodies of five terrorists returned (file)
Flash 90
Israel continues to return the bodies of terrorists killed during attacks, including terrorists who resided inside of Israel.
The bodies of two terrorists – including a female terrorist – were returned to their families overnight. Both were involved in stabbing attacks against Border Police officers. The two were killed in separate incidents.
One of the two terrorists, Muataz Awisat was a resident of the Jerusalem neighborhood of Jabel Mukhbar. The 16-year old attempted to stab Border Police officers in the neighborhood of Armon HaNatziv last October, but was shot dead before he managed to harm anyone.
The second terrorist, Fadwa Abu Tir, was a 50-year old resident of Umm Tuba, an Arab village incorporated into the city of Jerusalem. In March, Abu Tir attempted to stab Border Police officers in the Old City of Jerusalem, but was gunned down in the midst of her attack.
The two were quickly buried by their families overnight immediately following the handover by Israeli security forces.
While Israel has regularly returned the bodies of terrorists from Judea and Samaria, hitherto the government has maintained a policy of not returning the bodies of terrorists from eastern Jerusalem.
The policy has been a bone of contention between Defense Minister Moshe Yaalon, who in the past has argued that the return of terrorists' bodies to their families prevents escalations, and Internal Security Minister Gild Erdan, who has opposed such transfers.
Yaalon, who determines IDF policy in Judea and Samaria, opted to return the bodies of slain terrorists, while Erdan, who has authority over the transfers of terrorists from within Israeli sovereign territory, had in the past prevented such handovers.
In recent months, however, Israel has begun to transfer the bodies of eastern Jerusalem terrorists, under the condition that their burial be conducted immediately following the return, and not involve large displays of public support for the terrorists and their actions.