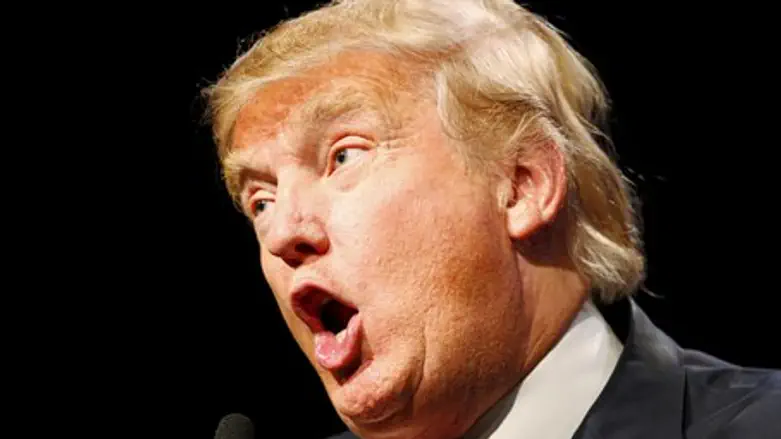 Donald Trump
Reuters
Republican presidential frontrunner Donald Trump on Monday reiterated that he would recognize Jerusalem as Israel's capital and move the American embassy there if elected.
The comments were made in an interview to CNN hours before Trump was due to address the AIPAC Policy Conference in Washington, DC. He later repeated the same comments at his AIPAC speech.
"There's nobody more pro-Israel than I am. We have to protect Israel. Israel is so important to us," he said in the interview.
Asked whether he would recognize Jerusalem as Israel's capital and move the embassy from Tel Aviv to Jerusalem, Trump replied, "Yes, I would."
"The fact is I would like to see it moved, I would like to see it in Jerusalem," he added.
The comments are similar to ones made by Trump in the past. In January, in an interview on the Christian Broadcasting Network, the real estate mogul was asked if he agreed with his rivals Ted Cruz and Marco Rubio – who has since stepped down – in their pledges to move the embassy if elected.
"They want it in Jerusalem. Well I am for that 100%. We are for that 100%," Trump said, in his first promise to have the embassy resituated in the 3,000-year-old capital of the Jewish people.
Trump's rival Cruz, along with Senator Dean Heller (R-NV), recently drafted a law that would remove the president's authority to invoke national security as a reason to ignore Congressional resolutions on moving the embassy to Jerusalem.
According to the measure, called the Jerusalem Embassy and Recognition Act of 2015, the White House would be required to identify Jerusalem as the capital of Israel even before the embassy is physically moved.
In 1995, both the Senate and House overwhelmingly passed the Jerusalem Embassy Act of 1995, which required the relocation of the American Embassy to Israel from its current location in Tel Aviv to Jerusalem. That law was passed with a proviso that allowed the President to, at his discretion, postpone the move on the basis of "National Security" concerns, which would be reviewed on a yearly basis. That proviso has been activated every year since the original Act was passed.