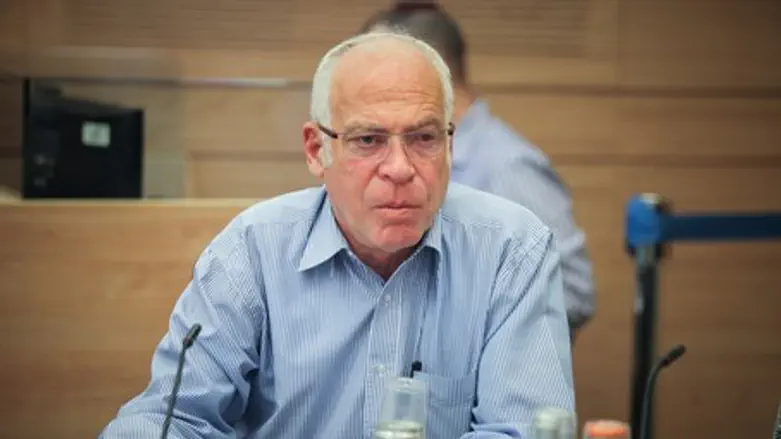 Uri Ariel
Yitzhak Harari/Flash 90
Agriculture Minister Uri Ariel, head of the Jewish Home party's Tekuma faction, said Wednesday that he would support the establishment of a seaport in the Hamas terror enclave of Gaza if such a proposal was brought before the government.
The topic has been raised in earnest recently as it is one of the demands of Turkey, a staunch ally of Hamas, in its rapprochement talks with Israel. Ankara is already planning a $5 billion project to rebuild Gaza, with a central part of the plan to be a seaport.
Israel has firmly refused the demand due to the blatant threat of Hamas using the seaport to smuggle in weapons, as the group has constantly been attempting to do even without the port.
But Ariel wrote on his Twitter account: "If the security arrangements were approved by the IDF, I would support the establishment of a sea port in the (Gaza) Strip."
"Zionism and settlement go together with economic and regional development," he wrote.
This is in fact not the first time Ariel has voiced his surprising support for a sea port in the Hamas enclave, as last December he likewise called to build a seaport in Gaza saying Israel should "only rule in terms of security."
Ariel's comments Wednesday came in response to a report in Haaretz, according to which the political and military echelons in Israel have restarted the discussion on a Gaza seaport due to the increasingly severe economic condition in the region under Hamas rule.
The new debate on the issue apparently stems from a desire to reach a more stable situation, on the assumption that a better economic standing in Gaza would prevent Hamas from attacking again.
Prime Minister Binyamin Netanyahu and Defense Minister Moshe Ya'alon (Likud) have firmly opposed the notion of a Gaza seaport, leaving its chances of being implemented low.