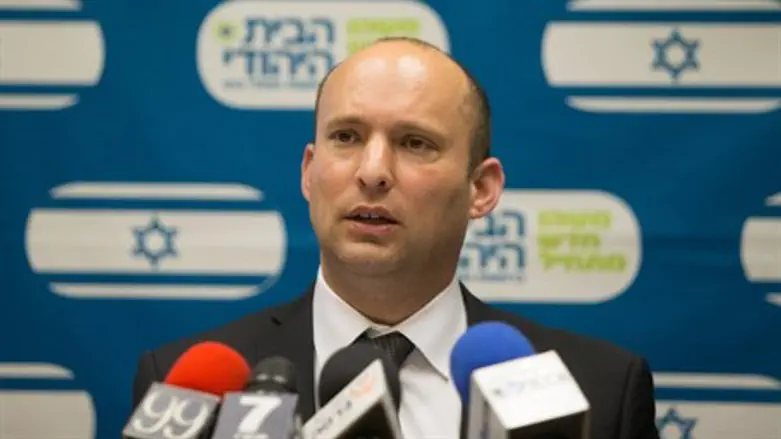 Naftali Bennett
Yonatan Sindel/Flash 90
IDF Chief of Staff Gadi Eizenkot, who came under fire for comments made last Wednesday regarding the army's open-fire policies, received backing Saturday night from Education Minister Naftali Bennett (Jewish Home).
Eizenkot, who rejected claims that the IDF's new policies regulating use of deadly force are too rigid and endanger soldiers' lives, came under a barrage of criticism from the Right, including members of the Likud and Jewish Home.
The embattled Chief of Staff also appeared to deride the Talmudic dictum of "when someone comes to kill you – kill him first", arguing that IDF soldiers should not "empty magazines" into terrorists wielding scissors.
Internal Security Minister Gilad Erdan (Likud) lambasted Eizenkot's statement, pointing out that no soldiers had emptied their magazines into terrorists. Transportation Minister Yisrael Katz (Likud) joined in, suggesting that Eizenkot's comments were part of a pattern of behavior limiting the ability of soldiers to combat terrorism.
MK Bezalel Smotrich (Jewish Home) went even further, calling upon Defense Minister Moshe Yaalon to summon Eizenkot for questioning. Yaalon demurred, rejecting criticism of the Chief of Staff's comments.
But on Saturday night Eizenkot received some support from an unlikely source – Jewish Home chairman and Education Minister Naftali Bennett.
"I really appreciate the Chief of Staff and fully support what he said," Bennett told Israel's "Meet the Press" on Channel 2. "I think he was misunderstood; all he really did was clarify the open-fire orders."
Bennett argued Eizenkot's statements meant far less that was being implied.
"Soldiers need to attack those who threaten lives, and not attack those who do not.  If it's a life-threatening situation, you open fire; if it's not, then there's no need."
Aside from Bennett, Eizenkot got the backing of former Foreign Minister Tzipi Livni (Zionist Camp), who on Friday lauded the Chief of Staff's commitment to "purity of arms".