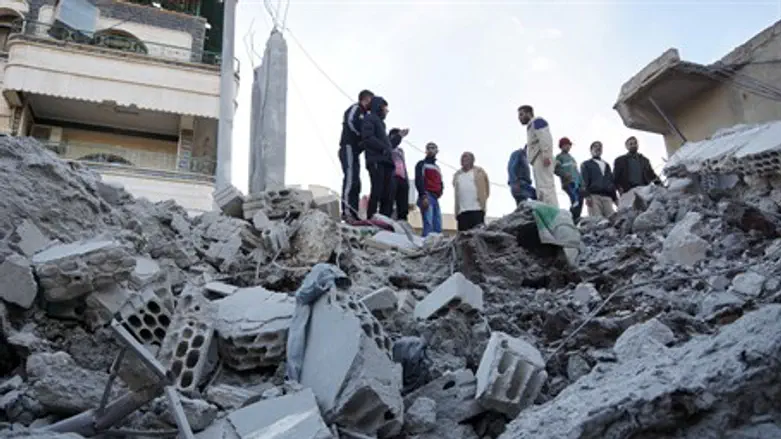 Site of airstrike in Syria
Reuters
At the largest gas facility in Syria, the Tuweinan gas facility, Russian engineers are working together with ISIS forces to produce natural gas, according to reports from rebels and Turkish officials. 
The plant which is located roughly 60 miles southwest of the Islamic State's unofficial capital of Raqqa, was built by the Russian construction company Stroytransgaz whose owner has close ties with Russian President Vladimir Putin. Construction began on the plant in 2007 and continued slowly until rebel forces, associated with the Al Qaeda-affiliated al-Nusra Front, took over the plant in 2013.
In a report published by the Foreign Policy website, one of the rebels who captured the site said that when the rebel forces entered the area the Russian staff had already fled and left behind the Syrian staff. "We decided to protect this plant; we thought it is belonging to Syrian people since it was owned by the Syrian state," said Abu Khalid, a member of the Qwais al-Qarani brigade. 
ISIS took over the plant in 2014, and following that takeover, Turkish officials reported that Russia had continued the construction of the plant with approval from ISIS. Russian involvement came via its Syrian subcontractor, a company by the name of Hesco. One official also claimed that Russian engineers were returned to the site to complete construction on the facility. 
According to David Butter, an associate fellow at the London-based Chatham House, who has seen a letter written by George Haswani that explained the details of the project, the facility was completed in 2015 and has begun pumping gas to Aleppo, which is under ISIS control as well as to Damascus and Homs which are under Assad's control. 
Abu Khalid confirmed that Russian engineers work at the facility."ISIS allowed the Russian company to send engineers and crew in return for a big share in the gas and extortion money," Khalid added more detailed information regarding the Russian engineers' involvement. Khalid said that the "employees of the Russian company were changing their shifts via a military base in the Hama governorate."
In October of 2015, the the Financial Times reported that the deal between Assad and Russia on the one side and ISIS on the other allowed 50 megawatts of electricity to go to the Assad regime, while the Islamic State receives 70 megawatts of electricity and 300 barrels of condensate. The engineers who worked at the plant told the Financial Times that Hesco sends the Islamic State a large sum of approximately $50,000 each month to protect its equipment and workers.
With Syria in a constant state of war and emergency, the plant shows that the various sides in the country can still cut deals when it benefits them economically, even while the loss of human life around them soars to the half-a-million mark.