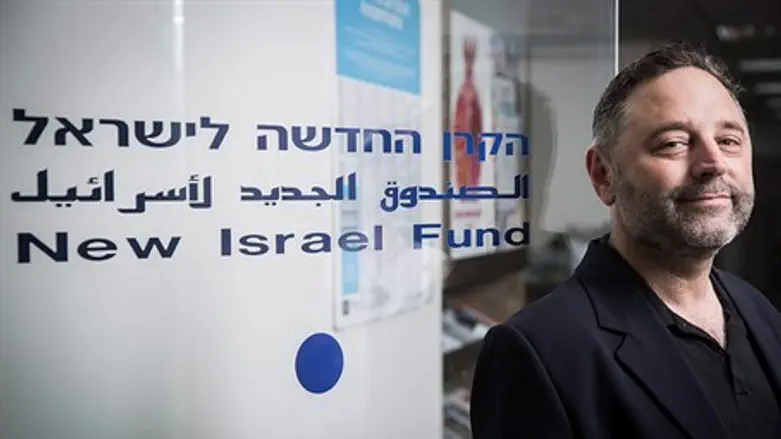 NIF's CEO, Daniel Sokatch
Hadas Parush, Flash 90
A poll conducted Tuesday shows that 53% of the Israeli public support a law that would prevent the New Israel Fund (NIF) from operating in Israel, while 24% oppose it, and the rest have either not heard of the NIF or have no opinion.
A much larger majority – 67% – said that they support Defense Minister Moshe Ya'alon's (Likud) recent decision to ban the ultra-leftist Breaking the Silence from entering IDF bases.
A full 58% of the public said that Breaking the Silence should be outlawed, while 31% opposed this and 11% had no opinion on the matter.
Two thirds of the Israeli public – 66% – support outlawing B'tselem. A whopping 80% of respondents from the religious sector supported the change.
The NIF is an ultra-leftist fund that has been accused of attempting to subvert Israeli society by supporting hostile organizations like Adalah and B'tselem. NIF-funded organizations provided 92% of the Israeli quotes in the infamous Goldstone Report that followed Operation Cast Lead in Gaza in 2008-9. The Fund has also set up a network of women's organizations whose opponents accuse them of fomenting strife between women and men, encouraging divorce and encouraging a breakdown of the family. 
Breaking the Silence has been accused of inciting against Israel on the global stage by accusing it of "war crimes." 
The organization was banned earlier this week by Defense Minister Moshe Ya'alon from entering IDF camps and engaging with IDF soldiers, and Education Minister Naftali Bennett (Jewish Home) later banned the extremist organization from operating within Israel's school system.