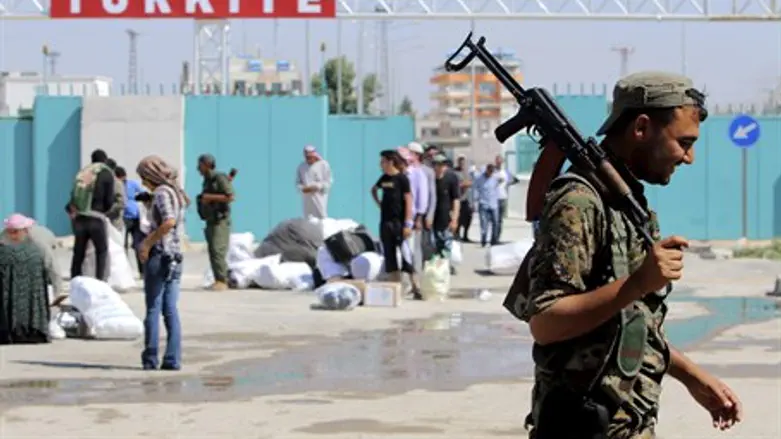 Kurdish YPG fighter walks along Syria-Turkey border
Reuters
Turkish Prime Minister Ahmet Davutoglu on Wednesday warned the United States and Russia against "unacceptable" military and political support for Syrian Kurdish forces fighting the Islamic State (ISIS) terrorist group in Syria.
Turkey earlier summoned US and Russian envoys to warn against supplying arms and support for Syrian Kurdish forces fighting ISIS in Syria.
"We have a clear position. That position has been conveyed to the United States and the Russian Federation," Davutoglu said in televised comments. "Turkey cannot accept any cooperation with terrorist organisations which have waged war against it."  
A Turkish foreign ministry official told AFP that the US and Russian ambassadors were called to the ministry Tuesday "to convey Turkey's views" about Democratic Unity Party (PYD), the main Kurdish group in Syria. Its armed wing, the People's Protection Units (YPG), have been the most effective fighting force against ISIS on the ground in Syria, taking swathes of territory from the jihadists in months of dogged fighting.
"Necessary warnings were issued," the official added.
Turkey labels the PYD as the Syrian offshoot of the outlawed Kurdistan Workers' Party (PKK) which has waged a bloody insurgency since 1984.
US-led coalition forces have parachuted in ammunition to anti-ISIS rebels in northern Syria, stepping their backing for groups battling jihadists.
The move follows the Pentagon's announcement last week that it would halt its much-criticized program to train moderate rebels, and instead focus efforts on equipping pre-screened rebel leaders from groups actively fighting ISIS.
Stark warning
Russia is intervening in Syria with bombing raids in support of the regime of President Bashar al-Assad. A top Russian official last week held talks with PYD leader Salih Muslim to discuss the fight against ISIS.
The PYD's Kurdish fighters control large parts of northern Syria on the Turkish border, where they have for months engaged in bitter fighting with ISIS jihadists.
Turkey is currently waging a two-pronged "war on terror" against both ISIS and the PKK, although so far air strikes have overwhelmingly focused on bases of the Kurdish militants in northern Iraq.
Davutoglu said Wednesday that there was an "organic bond" between the PKK and the PYD.
"We know that some of those who fled from (Turkish) operations against the PKK in northern Iraq joined the ranks of the PYD in Syria," he said.
"We have a clear stance against terrorist organisations which waged a war against Turkey. We have the same attitude against their affiliates," Davutoglu said.
He warned the United States and other allies against any cooperation with the PYD.
"Just as the United States and other friendly allies fight against Al Qaeda linked groups, Turkey is determined to fight against the PKK and its affiliates," he said.
"Just as the United States and allies cannot tolerate arms support for Al Qaeda and its affiliates, Turkey cannot tolerate arms support for the PKK and its affiliates."
He said that nobody could guarantee the ammunitions provided for Syrian Kurdish groups would not end up in Turkey.
"We will never allow a weapons stockpile in Syria to be inserted into Turkey," he said.