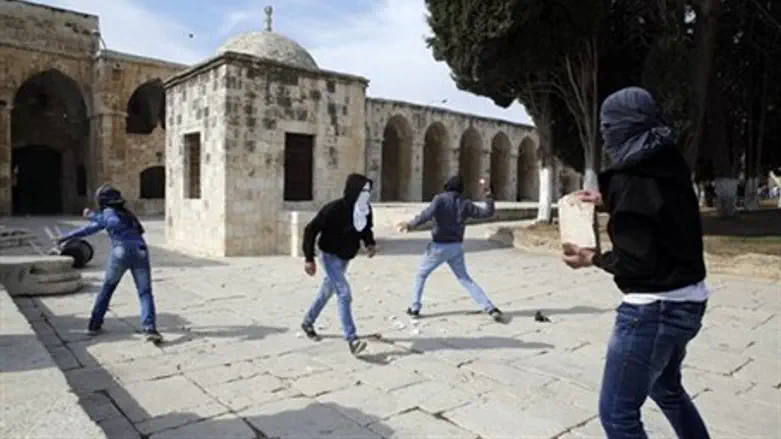 Muslims on Temple Mount (file)
Sliman Hader / Flash 90
Israel Police forces were attacked early Sunday morning by a group of masked Arab rioters at the Temple Mount just hours before the start of Rosh Hashanah. 
The masked men threw stones and fireworks at police patrolling the site. They also shot rocks and a firebomb from the wall to the Ophel and Huldah Gates.
Jerusalem District Police and Border Police responded by firing stun grenades and tear gas, dispersing the rioters. 
There are no reported injuries or casualties in the clashes. 
According to police, AFP reported, the rioters barricaded themselves in the Al-Aqsa mosque overnight with the aim of disrupting visits by Jews to the site ahead of the start of New Year celebrations on Sunday evening.
The Temple Mount is now open to Jews. Among the visitors on Sunday morning was Agriculture Minister Uri Ariel, who often visits Judaism's holiest site on the eve of Rosh Hashanah. 
Channel 10 reported that despite relative calm between authorities and Arab worshipers to the Al-Aqsa mosque in recent months, police received an advanced warning of riots planned ahead of the Jewish New Year. 
Police forces were quickly deployed to the Temple Mount as well as throughout Jerusalem in preparation for potential Arab violence during the holiday. 
The disturbances also come with tensions running high days after Defense Minister Moshe Yaalon outlawed two Islamist groups which harass Jewish visitors to the compound.
The male "Murabitoun" and female "Murabitat" activists regularly riot on the Mount, curse, shout, and throw various objects at the Jews who ascend the Mount, and sometimes attack police as well.