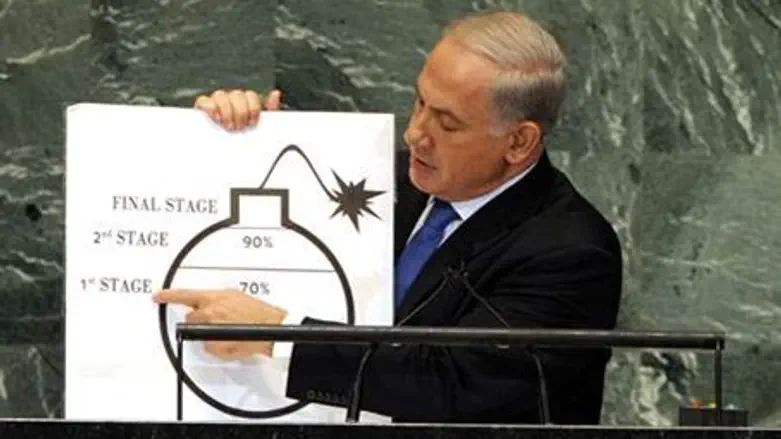 Netanyahu presents his "nuclear bomb" graphic at the UN in 2012
Avi Ohayon/GPO/Flash 90
Gwen Ifill, co-anchor of "PBS NewsHour", was reprimanded by the network over a tweet that seemed to mock Prime Minister Binyamin Netanyahu.
Ifill tweeted "Take that, Bibi" after reports emerged that President Barack Obama had secured the necessary number of votes in Congress to ensure the passage of the Iran nuclear deal.
It generated hundreds of protests and comments on her Twitter feed, with readers accusing her of bias, anti-Semitism, and "acting like a third grader."
PBS ombudsman Michael Getler, quoted by CNN, later said the tweet was "inexcusable" and a "real self-inflicted wound."
"Ifill is a highly experienced journalist, very quick, alert, knowledgeable, and with an engaging on-air personality," he said, according to the report.
"She also has a talented eye for the ironies and political turnabouts in the daily flow of news that contributes to her presence. But PBS and the NewsHour are bigger than any individual and tweeting does not appear to be a tool, in these cases, that is appropriate for maintaining credibility, which is the bedrock for news organizations," added Getler.
After Obama secured enough congressional support to ensure the nuclear deal's advancement, the administration-run account tweeted out a drawing intended to illustrate that "Iran's program is significantly less dangerous."
The drawing was identical to the cartoon bomb that Netanyahu displayed during a memorable 2012 speech at the United Nations, where he warned that Iran was close to obtaining a nuclear weapon. Ifill's response to that tweet was widely criticized by conservatives.
"Gwen Ifill should be ashamed of herself," New Jersey Governor Chris Christie told conservative radio host Hugh Hewitt on Wednesday, according to CNN.
Ifill told Getler that she "should have been clearer" that she was echoing the administration's position, not her own.
Getler noted that he's addressed Ifill's Twitter activity before. In 2012, the anchor took some heat when she defended another journalist who had been caught on a hot mic making disparaging remarks about Republicans.
(Arutz Sheva's North American desk is keeping you updated until the start of Shabbat in New York. The time posted automatically on all Arutz Sheva articles, however, is Israeli time.)