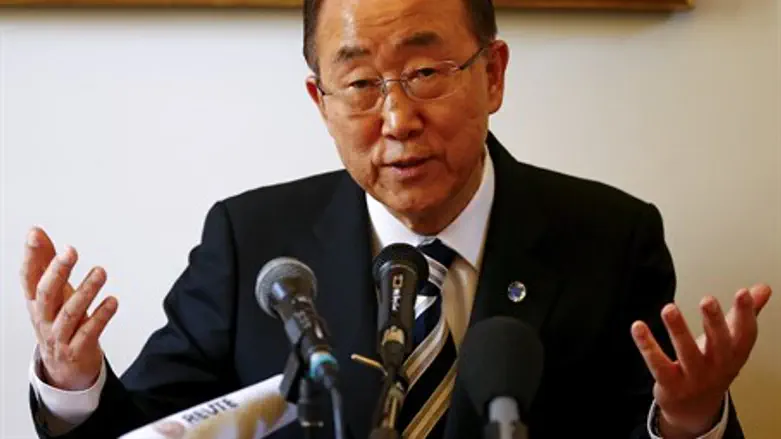 UN Secretary-General Ban Ki-moon
Reuters
UN Secretary General Ban Ki-moon on Tuesday raised alarm over a $100 million shortfall in funding for the UN aid agency for "Palestinian refugees", UNRWA, and called for urgent donations, AFP reported.
Ban said in a statement quoted by the news agency that UNRWA was "a pillar of stability" for five million Palestinian "refugees" at a time when the Middle East is in the throes of crises and suffering.
He called "on all donors to urgently ensure that the $100 million required be contributed to UNRWA at the earliest possible date so that the children of Palestine can begin their 2015-2016 school year without delay."
Ban has personally spoken to several world leaders in the past weeks about the unprecedented funding crisis at UNRWA, his spokesman said, according to AFP.
UNRWA has previously warned that it may have to close its schools due to its large debts and fear of going bankrupt.
Adnan Abu Hasna, UNRWA media adviser, said in July that the financial deficit may cause the body to close 700 schools in Gaza, Judea and Samaria, Lebanon, Syria and Jordan at the start of the next school year.
UNRWA schools have been accused of being "incubators of terror" in teaching radicalism, aside from being weapons storehouses for Hamas, as seen last summer when rockets were found at three different UNRWA facilities.
After the first discovery of rockets at an UNRWA school, the organization's workers reportedly called Hamas to come remove them.
A full 252 UNRWA schools are operating in Gaza, and are attended by roughly 248,000 students.
According to UN statistics the numbers of so-called "Palestinian refugees" - namely the descendants of the roughly 800,000 Arabs who left Israel in the 1948 War of Independence, and whose descendants uniquely "inherit" their refugee status - in Gaza stands at 1.3 million, in Judea and Samaria at 914,000, in Lebanon 447,000, 2.1 million in Jordan, and 500,000 in Syria.
Journalist David Bedein, head of the Center for Near East Policy Research, has revealed how UNRWA schools indoctrinate children in Gaza to create a "civilian army." He has also documented the symbiotic relationship between the agency and Hamas.