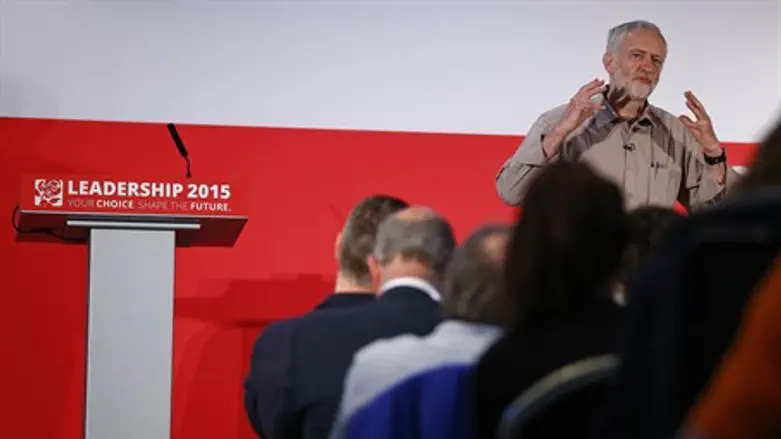 Jeremy Corbyn speaks at a Labour leadership hustings event
Credit: Reuters
The UK's left-wing Labour Party looks set to veer even further leftward, as the most extreme candidate in the race to lead the party - who counts Hamas and Hezbollah among his "friends" - emerges as a clear favorite to win.
After starting off as an outsider, polls show MP Jeremy Corbyn with a handy lead over his rivals, buoyed by support from the powerful trade unions and newer, younger Labour members, who tend to be more radical. 
A YouGov poll released late Tuesday night showed 43% of Labour Party members and supporters favored him as party leader, compared with just 26% for his nearest rival Andy Burnam.
Similarly, British gambling giant Ladbrokes has named him their 2/1 favorite to win the race.
The news will be greeted with concern by British Jews, who have already abandoned Labour en-masse due to its increasingly hardline anti-Israel stance. Many within the Jewish community blame the often viscerally anti-Israel discourse of the political Left - which sometimes crosses into clear anti-Semitism - as contributing significantly to a rise in anti-Semitism in the UK.
Corbyn is a patron of the extremist Palestine Solidarity Campaign, which has numerous links to anti-Semitic figures spanning the far-left, far-right and Islamist groups, including proscribed terrorist organizations.
He also leads the Stop The War Coalition, which is a key organizer of the yearly Iranian-sponsored Al Quds Day rally - an event initiated by the Islamic Republic's founder Ayatollah Khomeini, which calls for the total destruction of the State of Israel.
Since announcing his leadership bid Corbyn has come under scrutiny for a decision in 2009 to invite members of Hamas and Hezbollah - both proscribed terrorist groups in the UK - to an event in the British parliament. Speaking a day prior to the event at a Stop The War meeting, he described both Islamist terrorist groups as his "friends."
But it's not just British Jews and supports of Israel who are concerned about Corbyn's rise. Many rank-and-file Labour Party members are worried the selection of such an extreme candidate - who would run for prime minister in the next general elections - would render their party unelectable for the foreseeable future. 
Four Labour MPs in total are vying for leadership of the left-wing party, after former head Ed Miliband resigned following his failure to win May's general elections.