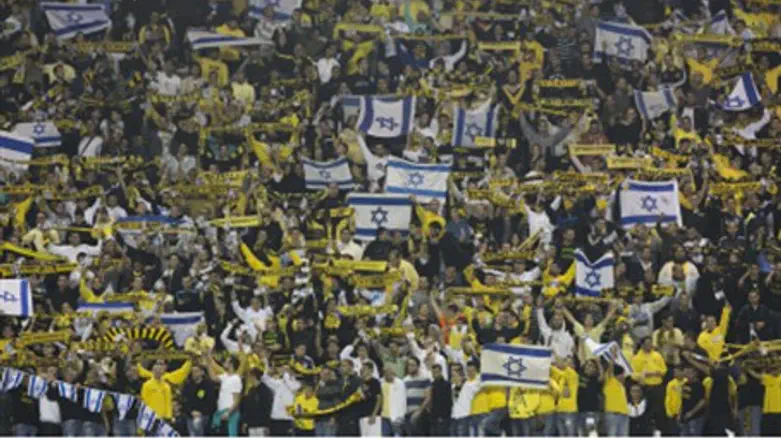 Beitar audience (illustration)
Flash 90
Culture and Sports Minister Miri Regev (Likud) is defending the La Familia soccer fan club on Sunday, after MK Yoel Razvozov (Yesh Atid) rallied to get the club banned from the list of acceptable organizations after several people associated with the group threw smoke bombs onto the pitch during a game between Belgium's Charleroi and Beitar Jerusalem. 
"It is inconceivable that an MK has expressed such irresponsible accusations against a whole group," Regev stated, according to Maariv. "With all due respect to MK Razvozov, please learn first what is and isn't a terrorist organization".

"As I said I have established an inter-ministerial team which shall submit within 30 days its conclusions under the policy which I have outlined: enforcement, deterrence and the preservation of the sporting experience," she added. "The committee will present its recommendations with concrete solutions for the opening of the season in October."

Regev added that she is meeting with the heads of the various soccer fan clubs to discuss the issues. 
Earlier Sunday, Regev stated in an Army Radio interview that she condemns the actions of the fans during the smoke bomb incident, but adds that she does not believe all Beitar Jerusalem fans are radical - nor should the public label them as such. 
"I was at the Teddy Stadium in Jerusalem for a Beitar game did not see any violent behavior or hear cries of 'death to the Arabs," she noted. "In those places where fans cry racism and incitement against Jews or Arabs, official should take care of those rioters. But this behavior does not represent all the fans, just a handful of thugs who are trying to tarnish the group's name." 
Regev noted that she is also waiting for legal opinion on the issue, as well as a statement from the Israel Police on whether rowdy or racist fans could be arrested. 
On Thursday, several radical fans of Beitar Jerusalem apparently identified as members of La Familia threw smoke bombs onto the soccer pitch during a 5-1 loss to Sporting Charleroi in Belgium. 
Beitar owner Eli Tabib announced he is cutting his ties with the team and selling it as a result of the incident, and is likewise cutting his ties with Israeli soccer altogether, after fans threw smoke bombs and also apparently hit the Charleroi goalkeeper with a thrown object that led him to fall down.The incident likely will cause Beitar to be fined by the UEFA.
During the same game, Arutz Sheva reported Friday, several Belgian fans gave the Nazi salute and shouted taunts at the Israeli players.